Our stay and experience at Sequoia Lode Disney Hotel 11th-15th July 2017
After driving all the way to Disneyland we arrived at our hotel and to be honest I was really worried about terrorism because of recent events.
We arrived up to the barrier and was greeted by a security guard who asked to check our booking details before he would let us in, we presented these to him and he let us through, instantly this made me feel better.
As our son is disabled and cannot walk far we asked if we could use the disabled carpark which was outside the hotel doors to the left and also had a barrier so people couldn't misuse it.
Me , my partner and 3 kids then made our way to the entrance where there was a baggage x-ray machine and 2 security guards as well as another security guard with a wand scanning with guest who didn't have luggage, this was done every time you entered or left the hotel from the front entrance and also at the entrance of Disney village  as well as dogs and horses . I never once felt scared and believe me I had sleepless nights worrying about this for months before we left.
when we got through security there is the reception which I queued in for 20 minutes to be told I needed to go to the Golden forest suite to my left which I was seen straight away haha.
We was greeted by a man with the biggest friendliest smile and asked to take a seat and help myself to chocolate coins.
He explained how everything worked and what time breakfast was in the mornings, he handed us the fast passes and the meal vouchers and explained how it all worked which I knew anyway by this point,.
He also explained to me how the Hotel credit card worked so I didn't need to take my bank card into the park, They ask you for the last 4 digits of the card security and expiration date I think it was and said you just use this as you would your bank card and when I reached  a limit of 400 Euros it would automatically be taken from my card and you can carry on using it until you reached the limit again. Make sure you take cash into the park thought if you do this as you cant use the card in McDonalds which was annoying and another one of the restaurants in Discovery land called café Hyperion or the little food stalls.
We got to our rooms as I had upgraded to 2 rooms with a interconnecting door so we slept in one room and the kids in the other.
The hotel had ;
2 double beds
television with lots of kids channels  which also had a guide on and was linked to your booking.
Kettle, a mix of tea bags everyday ,mugs, sugar, coffee , coffee machine
hairdryer
little mickey shampoo, conditioner, shower gel, moisturiser and soap every day
fresh towels
we also had a fridge we didn't find till the last day
safe
In the Kids room there was
A big washroom and shower with mickey shower gel, shampoo, conditioner, soap, moisturiser
selection of tea bags, milk, coffee, sugar
kettle
coffee machine
tv
fridge
hairdryer
safe
single bed
bunk beds
(PLEASE EXCUSE OUR MESS -we had ben there a few days already and I only took these pics to show my mumma bear )
The beds were made fresh every day and clean towels every day.
Breakfast in the hotel was in the golden forest room behind the Disney shop I was such a pig and I really miss all the yummy food.
hot continental breakfast
croissants and Danish whirls
variety of different bread, ham, cheeses
variety of fruit
mmmmm pancakes with syrup and toppings
yoghurts an probiotic drinks
fruit salads
cereals
dried fruit
Tea, coffee apple juice and orange juice
Also between the hours of 2-4pm if your in the hotel at that time you can go and have unlimited treats and hot drink and soft drinks.
There is a character in the hall every morning between 8am and 11am. we saw Goofy, and Mickey there.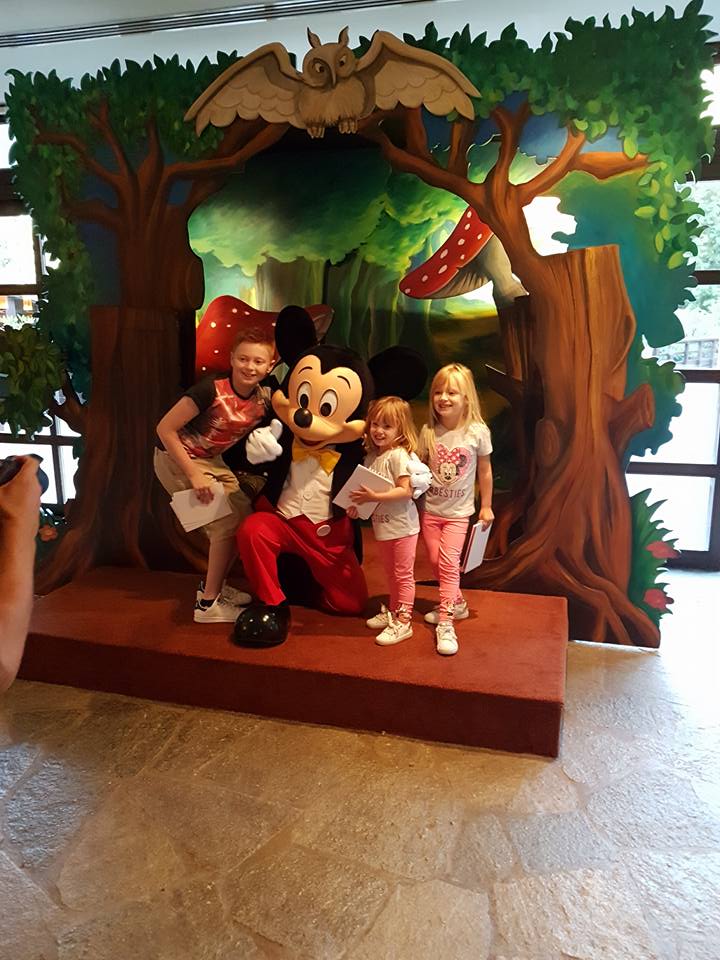 It was about a 25minute walk for us if my son wanted to walk it and push his wheelchair otherwise it would of been a 10-15 minute walk and its a beautiful walk. All the staff were polite, friendly and helpful.  They also had a little play area for kids to play in whilst you have a drink filled with balloons, colouring pencils and paper and games.
What we also did was we brought lots of snacks for the parks so if the kids got hungry whilst they waited we could give them a bag a day. What we included was the following;
Crisps
Raisons
biscuits
sweets
apples
food bags
The kids loved counting them out into 3 bags every morning.
we purchased a photo pass which was well worth it.  It was 59 Euros and you download the app on your phone. when you have a photo taken they scan your pass and it automatically goes on your app to see and download.
We didn't use the swimming pool as we was so tired when we got back we couldn't be bothered plus we could go swimming anytime, you cant just go Disneyland anytime.
Upon departure you will to get the code for the disabled car park from reception to get out of the car park.
Hopefully I haven't missed anything out and if I remember anything else I will add it in. or if you have any other questions about the Hotel please don't hesitate to email me jo@theknighttribe.co.uk and ill try my best to answer it.
Many thanks,
Jo