If you haven't heard of L.O.L surprise dolls then where have you been?
New for 2018 the L.O.L surprise pets have joined the L.O.L surprise dolls and if your child is anything like mine then they have already started a collection. My girls love watching kids on YouTube unwrapping blind bags which is where this craze came from, they have quite a few of different collections on the go and lots of L.O.L dolls already so Lydia was Ecstatic when I brought home a Pet from series 3.
The packaging is similar to the dolls, they come in a ball shaped case which has a carry handle you can clip on and off. The ball case comes wrapped in a few layers each which are easy to open and adds more suspense to the surprise, just look for the zip and pull it from the top.
Once opened, inside you will find a litter tray in one half of the ball, 4 blind bags as well as a collectors guide.
Like most collectors guides there are categories to which your pet will fit in. Popular, Fancy, Rare and Ultra Rare. Lydia's is in the popular category.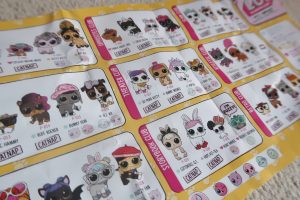 Lydia's surprise pet was a Dalmatian doggy called Dollmation ( Love the name ) and in the other 3 blind bags there were a cute little scoop with a bone shape cut out on the base, sunglasses and a squashy bottle to match her spots.
Inside the pink litter tray was magic sand, the type that moves when your not touching it, Lydia was mesmerised by it and it was also hiding another surprise which was 4 little pink puppy shoes.  The sand can be put back in and stored so it can be played with over and over again.
Now to fill up the little bottle with water and give your little pet a drink, the next surprise is to find out where your pet releases the water from. Does she spit, wee or cry it out? Ours spat it out which was very funny because when Lydia gave it a little squeeze it was directed towards me.
L.O.L surprise pets retail at £10 each and can be purchased at all good toy shops and supermarkets. They do have a minimum age requirement of 3 years+ due to small parts being choking hazards.
***I was given a L.O.L suprise pet in return for an honest review on my blog***