GROW YOUR OWN BLUME DOLL – JUST ADD WATER!
Lydia saw Blume dolls for the first time a few weeks ago when we popped into our local toy shop to buy a bucket and spade for her school trip.  She didn't have a clue what they were but the packaging had immediately caught her attention and she wanted one.  So I was super happy when we got offered the opportunity to review them on my blog.
What are they?
With 22 to collect in series one, Blume dolls are a new and exciting collectable toy with an unboxing experience like you have never seen before. There are 10 surprises included in each pot and with just a few sprinkles of water, you can watch your doll magically Blume before your very eyes.
Blume dolls have already been declared the hottest surprise toy for 2019 by Good housekeeping and we are about to find out why.
The outer packagings is wrapped very tightly so you will need a pair of scissors to help remove it as there are no easy tear lines.
Inside the lid, there is a little pink watering can, stickers and an instruction/ collectors guide. You will need to peel off the foil lid to uncover a brown cover.
Now you are ready to grow your own doll.
Fill up your watering can and sprinkle it over the brown lid/cover as directed below.
Now, sit back and watch your doll magically sprout out through the top like a real flower.
 I love the element of surprise they give the kids and I think no matter how many times you do it, it will always be this exciting.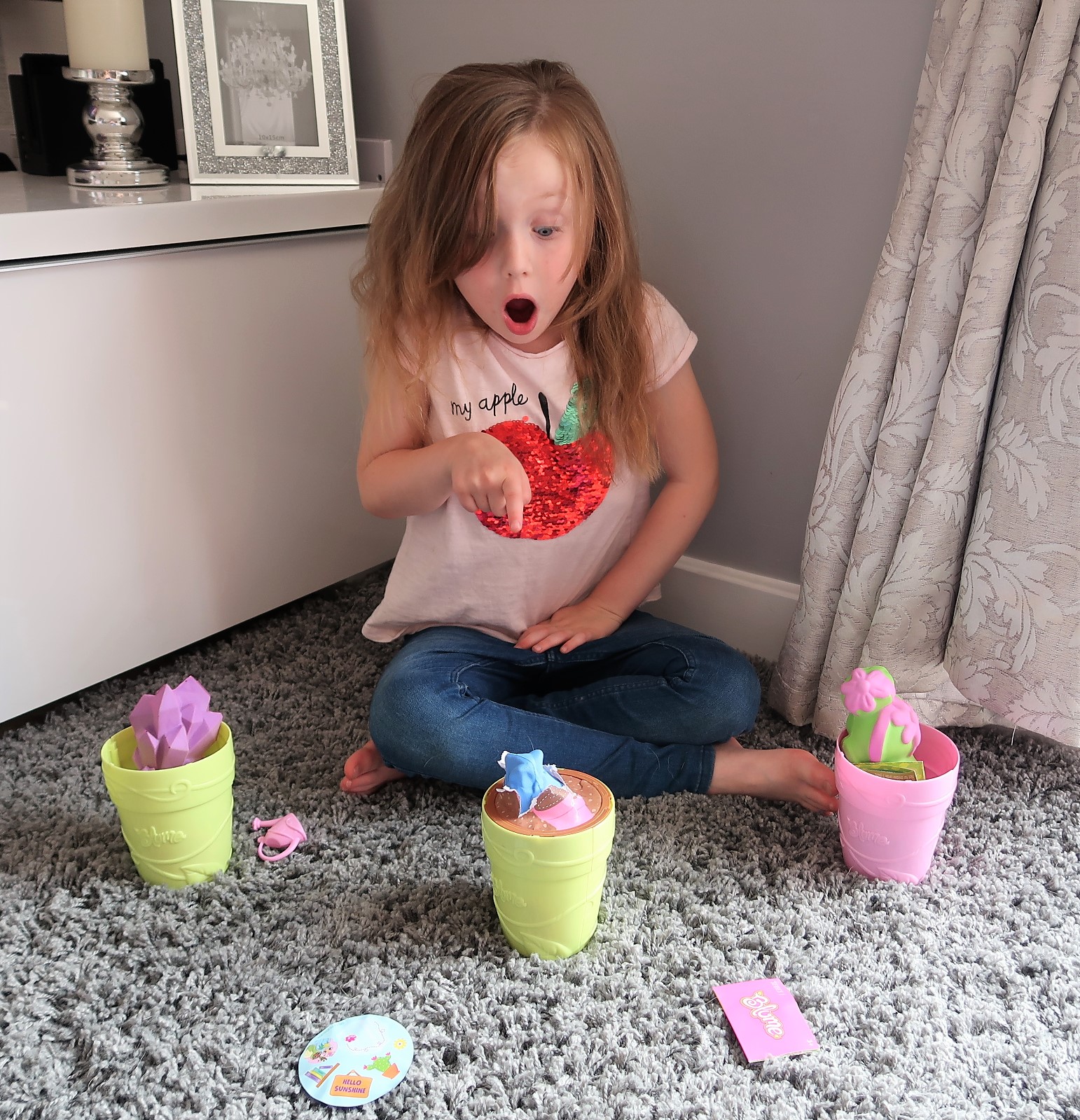 [embedyt] https://www.youtube.com/watch?v=mYS37_Tc6UM[/embedyt]
Once you have sprouted your magical doll, open up the pot and remove the mechanism to reveal more surprises awaiting inside.
Each pot contains a clip-on outfit, handbag and a cute little friend for your doll.
You can keep the Blume pot to store your accessories safe inside and decorate it with your new stickers to make it homely.
Each doll comes with its own level of rarity –  adorable, rare, super rare and the mystical doll called Leilani
We unboxed left to right:  Tate (Adorable)    Sedona (Adorable)   Celine (Adorable)
Each doll comes with a cute little outfit which you can mix and match with the other dolls, you can even swap their hair. Some dolls hair are stuck on so do not try and pull too hard or you will end up ripping the hair as I did.
The dolls do not stand on their own easily with the weight of the hair, but when it's taken off, depending on if your dolls hair detaches, they can stand on one foot.  (See photo above with the doll wearing a purple top.)
The big hair is a really cool feature on the dolls and they come in all different colours and styles. Another clever thing about these dolls is that their hair is foam so it can be squished. Squishies are huge in the toy industry right now so incorporating this into the creation of these dolls was a really clever idea.
Where can I buy them?
Blume dolls series one are available to buy from all good toyshops. They retail at £9.99 each and are suitable for ages  3+
Giveaway