Fill your washing line to win!
Put all the clothes into Wally and watch him spin!
Young children just love watching the clothes spinning round in their washing machine at home – and now they can have their own toy version, meet Wally the Washer.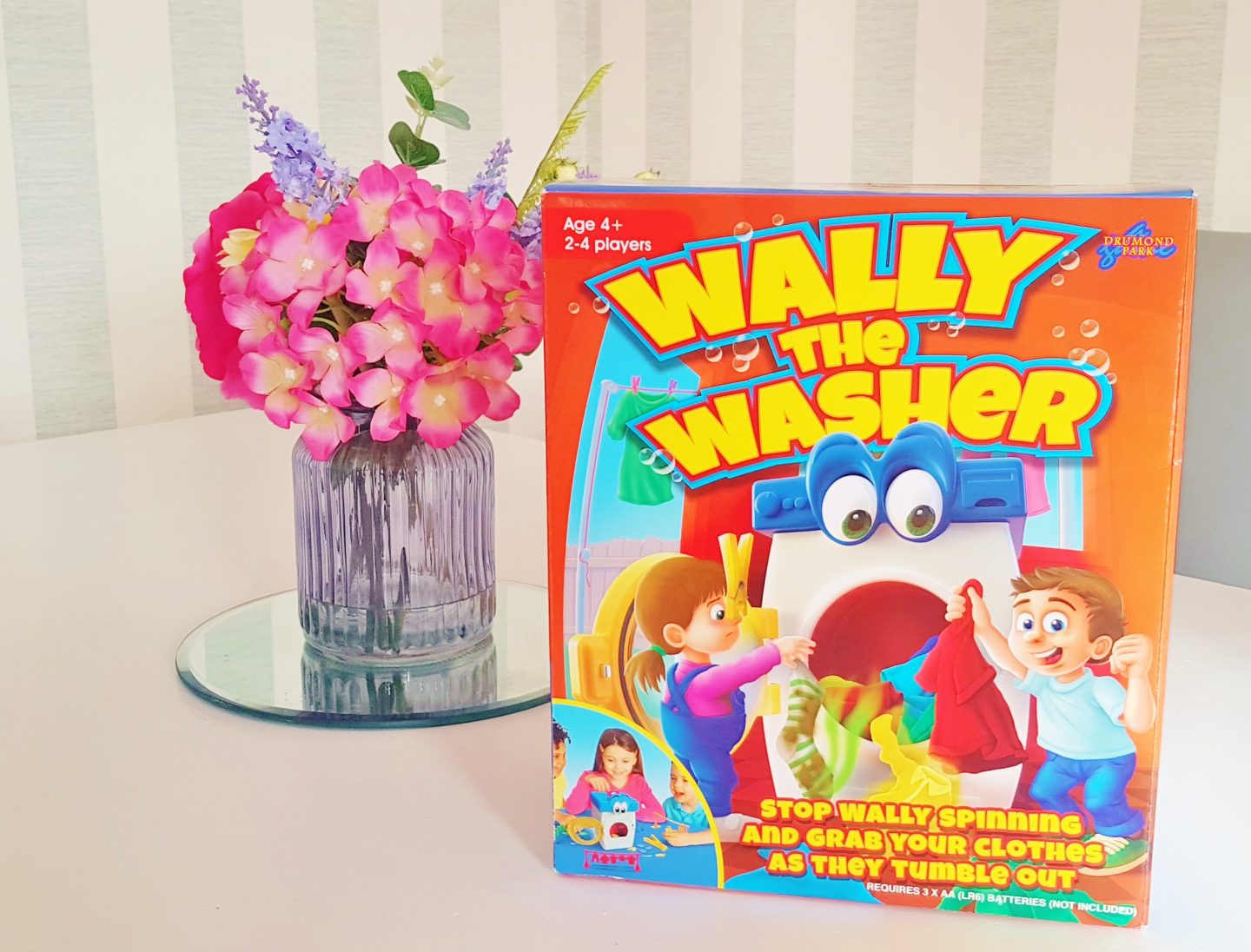 What's in the Box? ;
1x wally the washer

4x washing lines

20x clothes pieces

1x sock

1x clothes peg

S

ticker sheet and instructions.
You will need 3 AAA batteries for this game as they are not included.
It is a very easy game to set up and a really easy game to play.
(David explaining to the kids how to play)
Once set up, each player picks which colour washing line they want to be and then the youngest goes first.
(Preview of a full washing line.)
The aim of the game:
When it is your turn, press the washing powder button down and Wally will stop spinning and spit out a random mixture of washing.
Each player then has to take their colour washing and hang it on their washing lines.
BUT
There is a catch!
There is one smelly sock inside the washing machine and If that comes out with the washing on your turn then you have to wear the peg on your nose until the next person gets the smelly sock on there go.
The game is finished when the player who has retrieved all their matching washing first wins.
We keep on playing for a 2nd, 3rd and last place so that the game isn't over quickly.
It is not a fast-paced game, so reduces arguments between the kids in regards to the quickest person grabbing their washing first as everyone has their own colour to collect. The game doesn't take long to finish so you don't mind playing over and over again and the kids thoroughly enjoyed playing, especially Emily.
This game would make a wonderful birthday/Christmas gift for a young child, it also teaches young children to learn simple colours and basic counting whilst also playing with Wally as a toy and in my opinion worth the £24.99.
To win your very own, you can enter below.
a Rafflecopter giveaway

For more information and stockists
visit www.drumondpark.com/wallythewasher
***I was sent this game in return for an honest review, all opinions are my own.***