Peter Pan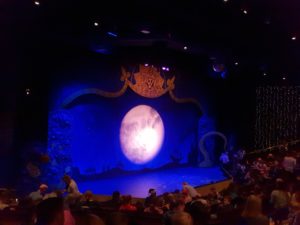 Christmas has crept up on us super fast. We love visiting our local theater to see the Pantomime, and this year it was Peter Pan.
We arrived at the key theatre ready for the 12.30pm show and made our way upstairs; there is a lift available for those who cannot use the stairs and the toilets are situated on the ground floor.
I always treat the kids to a flashy light toy, which are reasonably priced and we also brought five snack bags ready for the show. They cost us £3.95 each and included:
Popcorn
Fruit shoot
Chocolate buttons
Voucher for a little tub of vanilla ice cream at the interval
Photo of all the price guides are here to help anyone planning a visit, so you budget accordingly.
We entered the auditorium and our seats were situated near the top on the end. No matter where you sit in the theatre you will have a good view and little booster seats are available from the steward as walk inside. Emily needed one so she could sit higher up and see.
Tinkerbell opened up the show and had us all laughing instantly. I looked over at David and the kids and just watched their faces full of laughter and joy. From start to finish they kept us entertained with plenty of jokes for both children and adults, and the songs were fun too. Emily was really into it this year and I loved seeing her, along with Leo and Lydia get involved with all the shouting – as well as David. I think David was enjoying it just as much as the kids because every time I looked over he was really getting involved.
A few Important notes
The show itself is 2 hours and 10 minutes long which includes the interval. The last show is on January the 6th so you still have plenty of time to book.
 The car park is £2.60 for two hours or £3.60 for 3 hours and blue badge holders are allowed an extra hour on top of what they have paid.
Peter Pan is showing until the 6th of January
Tickets cost between £12-£18.50
***We was given complimentary tickets***