***Disclosure – I was kindly sent this product, All pictures and opinions are my own***
We get so excited when a new product comes out, especially if its to do with hair and beauty. FabLab has brought out yet another product to add to their already fabulous collection, we have nearly tried them all and we love each and every one of them.
What's in the box?
9x Solvent-free varnishes (8 Colour and 1 clear varnish)
2x Sheet of nail stickers
5x Finger nail masks
4x Ombre sponge
1x Fine brush
1 x Foam toe separator
1x Emery board
1x 12-page instruction manual
I let Lydia do it by herself this time around seeing as its recommended for 8years+ to see if she could and here is how it went.
She was very good and read the instructions first. She borrowed my phone and placed it in the phone holder inside the box so she could watch the tutorial on the Fablab Youtube channel whilst preparing for what she needed to do.
First, she put the rubber nail masks over her fingers, which come in all different sizes and for smaller fingers, you will have to pull it further down over the fingernail to make sure the whole nail can be seen and the rubber is surrounding the nail. The white varnish to do your base coat dries very quickly so you don't have to wait for ages, that is added next.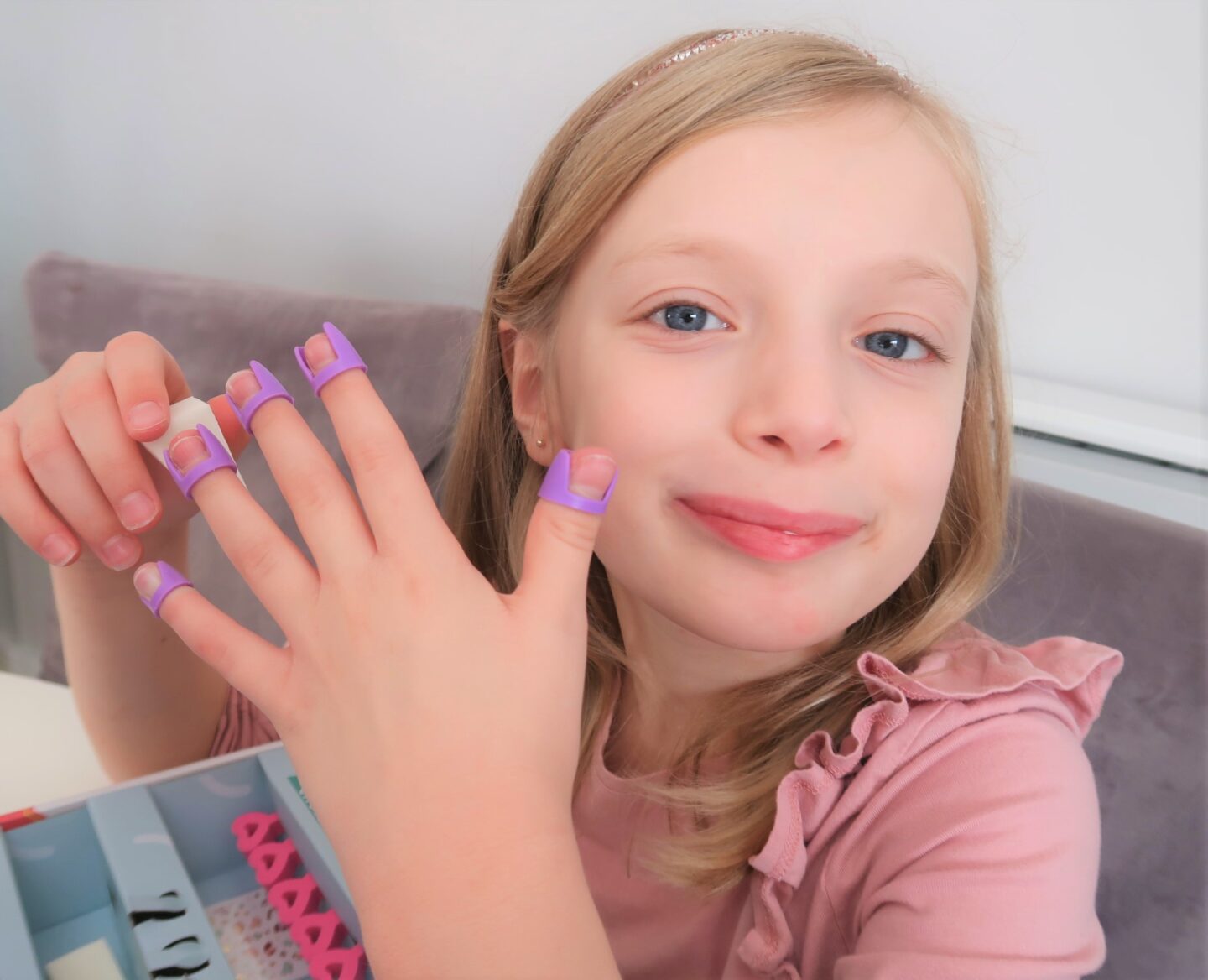 When your base coat has dried, you can either choose a varnish and paint your nails in a solid colour OR grab a sponge and give ombre a go. Lydia wanted to try ombre and I am so glad she did because I really wanted to see how it would turn out.
Use a sponge and pick the colours you want to use, Lydia picked blue and pink, then you have to paint a line of varnish across the top flat part of the sponge and add another line above it using the other colour.
Then all you need to do is stamp the sponge on each nail and wait for it to dry and pop the clear varnish over the top. We found the sponge tricky because she has tiny nails and we did get varnish around the skin but it easily comes off with a cotton bud and nail varnish remover so it wasn't a big deal. I think next time I am going to trim the sponge down so the area isn't so big and that will minimise the excess coming off.
FabLab Nail art Deluxe retails for £19.99 at can be purchased at Smyths and Amazon.