Become a princess for the day at Disneyland Paris
When I booked our holiday I just knew I had to book this for my little princesses , it was an amazing experience for all 3 of us.
We decided to do the experience on our first full day so we made our way over the Disney Hotel and went up to the 2nd floor where the shop is as this is where you have to book it.
We wanted the same day as we was dining at auberge de cendrillon (Princess dinner) that evening but unfortunately they only had the one slot left so we booked for the next day.
I have been told you can book this in advance but only if your doing the package that include the dress so as soon as you arrive go and book it if that's not the package you want to do.
My daughter's at the time were 4 and 2 year old however my 2 year old was turning 3 the week after.  So I went to the till to book it and when they asked how old they were she said to me the 2year old couldn't do it because she wasn't 3.  I was truly gutted I couldn't let one and not the other as they were both so excited for it , so we left the shop and I called my partner who was with my son to come up whilst I wait in reception with the girls and book it but to say she was 3 years old instead ( Naughty I know but she was days away from being 3 )
VOILA ! all booked we went for the 55 Euro package which included
Make up
Hair style
Photoshoot
Certificate
There was more packages that included the dress but to be absolutely honest with you the Asda princess dresses we brought with us were a so much nicer than there's.
The boutique is located on the 1st floor and its stunning when we arrived they asked for Lydia's invitation ( receipt from booking is the invitation ) and its a 30 minute slot.
Lydia's little beautiful face lit up when she saw the boutique and was treated like royalty, the lady sat her on a big chair in front of a beautiful mirror and asked her what princess she wanted to be and she replied Aurora and they started.
At the end of the make over before they do the photographs the cast member waves a magic wand over the princesses head whilst saying bibbidi bobbidi bo and then sprinkles glitter all over her … (took weeks to come out of there hair haha )
Now princess Milly's turn and she wanted to be Belle.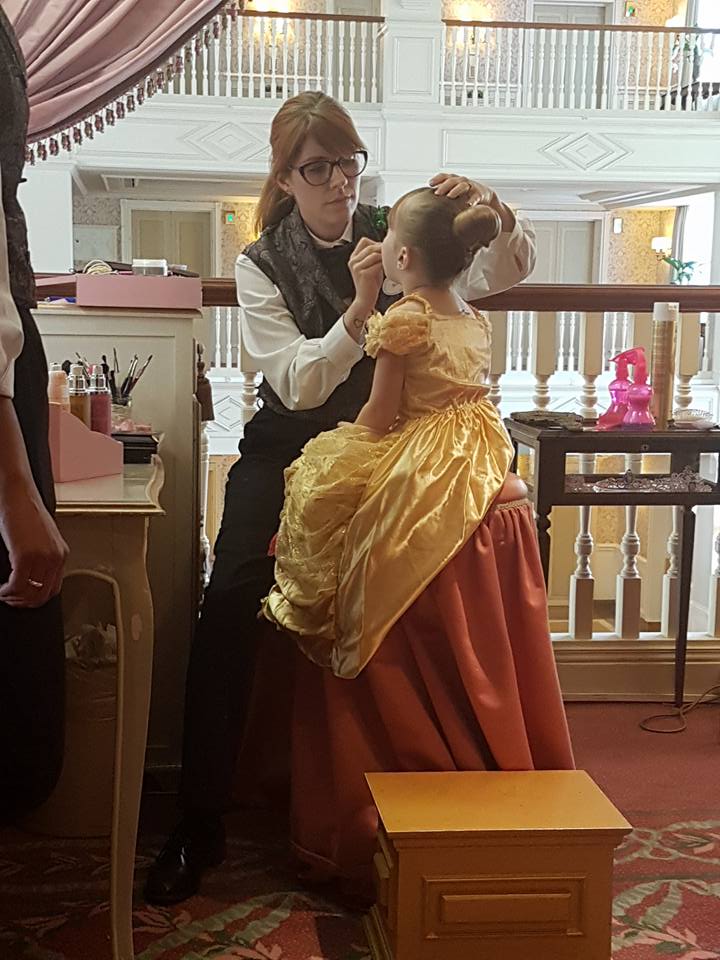 We was so glad we brought the photo pass to and we got so many stunning photographs to treasure forever and they absolutely loved it. I couldn't stop smiling and I really wanted to be a princess for the day too.
I would definitely recommend this if your taking a little princess with you, you will not be disappointed.