The Knight Tribe have breakfast with Santa
We received a letter in the post personally addressed to Leo, Lydia and Emily from Becket's tea room, inside there were 5 invitations and a letter from the man himself inviting us to come and have breakfast with him. As you can imagine at 3 and 5 years old they got rather excited and it was all they talked about every day.
In true Knight style, we ran about 10 minutes late. We walked into a lovely and warm, festive atmosphere where there were 5 tables of families including ours. We went to our table which was beautifully laid out with gold pointy hats and Christmas crackers.
( Lydia looks moody but I promise you she wasn't )
We were offered drinks straight away and the kids got into pulling their crackers and laughing at the jokes inside. One thing in particular that I loved about this breakfast with Santa was that there was a set number of tables to keep it more personal and not overwhelmed with lots of people which was really calming for someone like me who suffers from anxiety with busy crowded places so I tend to just avoid, This is one of the main reasons we had never done anything like this.  I was calm throughout the whole time we were there.
Our breakfast came out and it was delicious, we all had a full English breakfast cooked to perfection. The kids had the same size as the adults and did really well to eat as much as they did.
After breakfast, we all played pass the parcel which was really fun as we have always sat round in a circle but this time we did it around the dinner table and then passed it onto the next table to pass around. The staff made sure it stopped on every child so every one got a chance to open the parcel.
Halfway through, Santa Claus arrived with a sack of presents he sat down and started talking to the kids and then invited them to come and get their presents a table at a time. I thought this was lovely too as there was no queuing and because it was set tables the children didn't have to wait long to see him either and could sit down whilst they waited.
After Santa had given gifts to all the children he surprised us adults and gave us a present each too. I thought this was a lovely personal touch to the whole experience as we really didnt expect it. Emily was star struck, she couldn't believe she had just met Santa Claus.
When Santa had left to go back to the north pole, The staff got the children to join in with musical statues. It was lovely to see all the children getting involved. Noone moaned when they were out as they were given a bag of Maltesers. Lydia loved this game.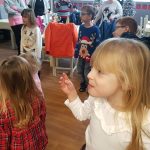 All in all we really really enjoyed breakfast with Santa at Becket's tea room. It was calm and relaxed with Christmas music playing in the background, the food was perfect, Santa was perfect, the staff were brilliant and we had an amazing time.
Also for people who have children that find busy, crowded places too stressful or if you yourself cannot cope then I would definitely recommend booking here.
Thank you so much for having us, we really had a good time and it couldn't have gone any better.
*** We were invited to have breakfast with Santa in return for an honest review***