On Saturday 27th October, Lydia and I were invited to a DesignaFriend VIP style press event in London. I told her about this a few weeks prior and she had been talking about it non-stop ever since; she was especially excited for one-on-one time with mummy.
As we approached the event venue, which is called The Icetank in Covent garden, we could see the DesignaFriend banner and a red carpet welcoming us as VIP's.  As we got closer, we could see inside and her little face had the biggest smile.
Inside we were greeted by the lovely Rachel, who looks after DesignaFriend's PR, and she gave Lydia her name sticker, directed us downstairs to hang up our coats and to have lots and lots of fun.
All the dolls were set out for the children so they could see the variety of dolls they can collect, aswell as seeing all the fashionable stylish outfits they can wear. 
We made our way down the swirly stairs and as we got to the bottom, Lydia's little jaw dropped. Everything Lydia loved was down there; pink, arts and crafts, and a little hair and nails salon.
All the stations were named after the dolls.
Milly's styling salon, which had a charm jewellery making table that consisted of sets from Interplay's craft box charm jewellery ranges – mermaid, fairies and unicorns, three of Lydias favourite things.
Lydia also had her nails painted in Milly's styling station. She chose a lovely turquoise colour using Fablabs style lab to match the colour in her hair. I personally love these nail varnishes as they painted on so nice, they didnt need two coats and dried fast too. Another great thing about these is that they just peel off when you want to either choose another colour or to take it off for school.
There was a little hair salon where she could have her hair styled and have colours added using Fablabs style lab hair chalk. Lydia chose the same colour as her nails, which surprised me as I thought she would go for pink, but I think she just wanted to be different. The hair chalks are great too and easy to use. The colour was vibrant and washed out easily that night.
It was lovely watching her have her hair styled. She looked so adorable just sat there smiling in the Hollywood styled mirror like a little celeb.
Also downstairs was:
Ella's fashion school where the children got to design their very own outfit using materials and bows used on the actual dolls. They had everything set out from the fabric, bows, a huge variety of different shades of glitter, paint sticks by Little Brian – which are brilliant as they do not make a mess and dry instantly – glue sticks, scissors and everything a little fashion designer would need for her board.
After having a really fun time downstairs we decided to go upstairs and explore. The first thing Lydia spotted was the pink lemonade and all of the delicious tasty treats. There was DesignaFriend cookies, dainty cupcakes and biscuits decorated with edible flowers. They certainly know how to make little people feel very special and important. She was in her element and so was I.
Bella's glamping tent was a huge tent styled to match the DesignaFriend glamping tent, which was also set out in the middle for the kids to play with. There were other furniture sets, set up from their range like the dolls house. Lydia loved the dolls house.
Last but not least was Arianna's photo studio where the girls could dress up and twin with their dolls for a special photoshoot.  Lydia chose a pug onesie for her and her doll Ella and off she went to get changed ready to be papped.
Here is one of the photo's we got to keep.
Lydia was given a very generous DesignaFriend gift bag before we left that was almost as big as her. It was full of lots of goodies and included:
-DesignaFriend Doll, she was thrilled to receive Ella.
-DesignaFriend Outfit, Lydia received a winter wonderland outfit in Pink that included glittery leggings, a pink top, sparkly skirt ,pink boots, a beautiful winter coat and a fluffy headband to complete the look.
-DesignaFriend gold handbag.
-Fablab face glitter tattoo's.
-Snow fairy charm jewellery.
-Little Brian Day glow paint sticks.
The morning had gone so fast as we was having so much fun, but all good things must come to an end so off we went back downstairs to get our coats on and say our thank yous and goodbyes.
To WirePR and DesignaFriend, thank you so much for inviting us both. You really made my beautiful girl feel extremely special and we thoroughly enjoyed our day. It couldn't of gone any better and all of the staff were so friendly and approachable with big smiles on their faces.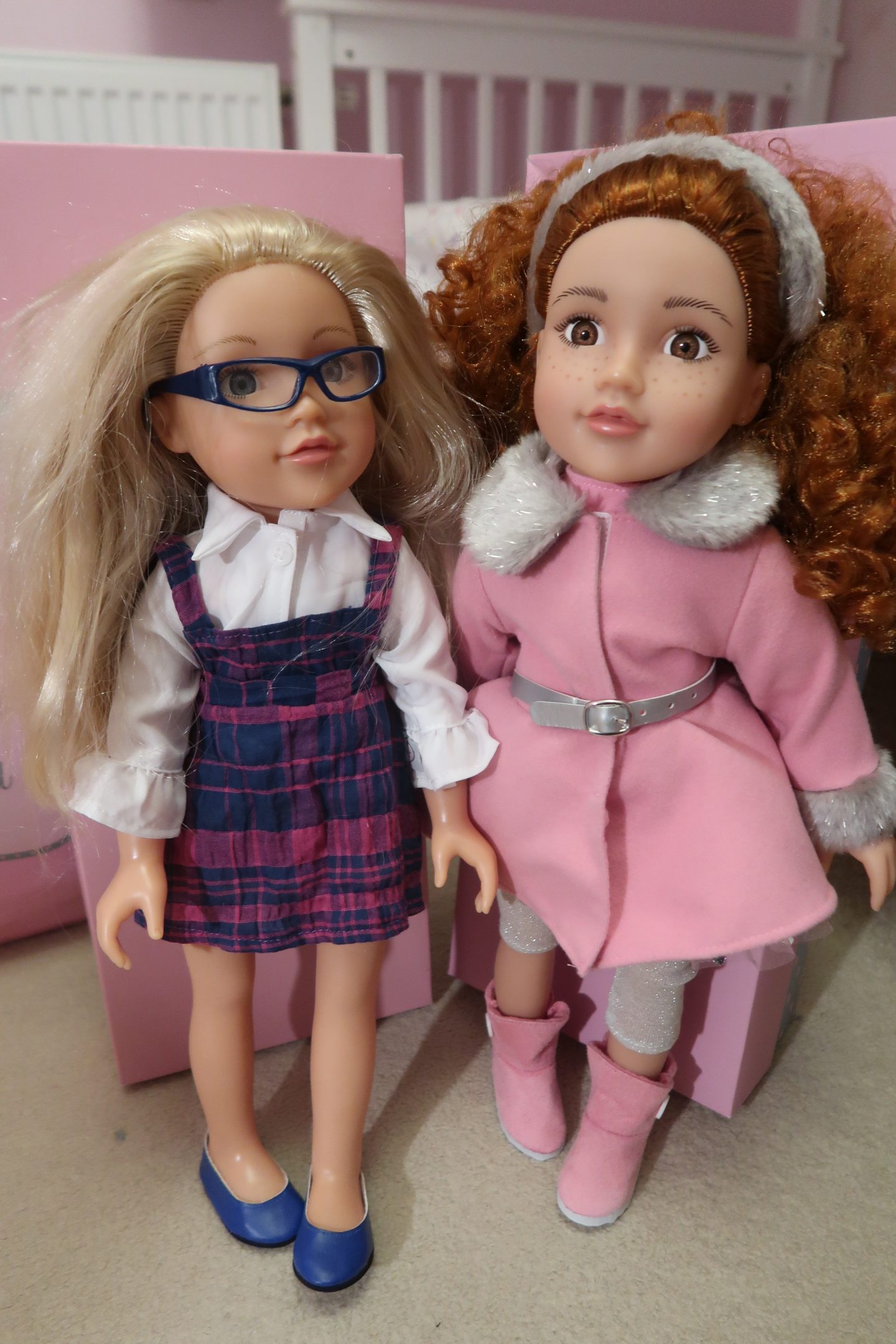 Lola (left) Lydia received for her birthday and  Ella (right) received from the DesignaFriend event.