Disclosure- I won our John Fowler holiday in a competition.
Cornwall is a five to six-hour drive from where we live and we had promised our youngest that we would take her to Peppa Pig World in Southampton for her birthday treat. We decided to leave a few days earlier and pay Paulton Park a visit, as it was almost on our way, subject to a slight detour – at least that was our logic. Emily, Leo and Lydia had a brilliant day and the smiles on their faces were priceless. After Peppa pig World, we drove two more hours in the direction of Cornwall and spent a night in a hotel to break the journey up.
We stopped off in Taunton for the night before carrying on our journey the next day, which would only take an additional two hours from where we currently was.
Our John Fowler holiday
We stayed at John Fowler Trelawne Manor in Looe in an adapted platinum caravan as it had a washroom which made it easier for Leo to use. The kids were all very excited and had been impatiently counting down the days to our holiday.
Check-in wasn't until 2pm and we had arrived at 11.30am so we took some time and explored the grounds for a short while but in true British fashion, it poured it down so we stopped to eat in their on-site café. The food was reasonably priced, freshly cooked and very delicious.
In the short time we were there waiting to check-in, we discovered an over 18's only section with slot machines and a few vending machines and on the opposite end, there was a small arcade for the children to play in.
The entertainment door was closed at that time so we didn't get to see inside, but there was a board outside with a timetable of what was on each night of the week. We also discovered a snooker room, which we didn't get to try out whilst we were there due to not having enough time.
The reception area also doubles up as a bar with plenty of seats to have a drink whilst you wait. We received our keys and the lady on the desk explained on the map where our caravan would be and gave us a welcome pack as well as a copy of the entertainment timetable so we knew what was on, where and when.
The Caravan was lovely and they had placed us next to the Manor and directly opposite their on-site 'Mace' shop, which sell all of your essentials and more. I found the shop to be reasonably priced especially for a convenience shop.
Here is a tour around our caravan.
We unpacked quickly and then googled the closest Aldi which, from the caravan site to the supermarket, was about a twenty-minute drive. That evening we decided we would stay in the caravan and play board games, watch a movie and eat some popcorn as we were all very tired.
The next day, we took the opportunity to visit a hidden gem called Talland Bay beach. You can read all about our day out here, I would definitely recommend you checking it out.
That evening, we decided we would check out the evening's entertainment. The kids loved the kid's show which starts at 6pm and is run by the 'Stripeys'. Daddy even got pulled up to dance to baby shark and chichi wa, which I found hilarious to watch.
I had a go on Bingo, which is also on every night at 7.30pm, and you can win up to £200. We played both Saturday and Sunday night and the girls even had a go at the Kids bingo on the Sunday, which had pretty cool prizes if you got a full house. Leo was more than happy to spend his time in the arcades winning tickets so he can swap them for prizes in the hall.
On Sunday we stayed on the site and explored the John Fowler facilities. The kids wanted to go swimming, although the weather wasn't great, they didn't care. I was a bit gutted that the indoor pool was closed between certain times for lessons so we used the outdoor pool. The pool temperature was ok and the area was a decent size with a slide. There is also a play park which the kids loved playing on.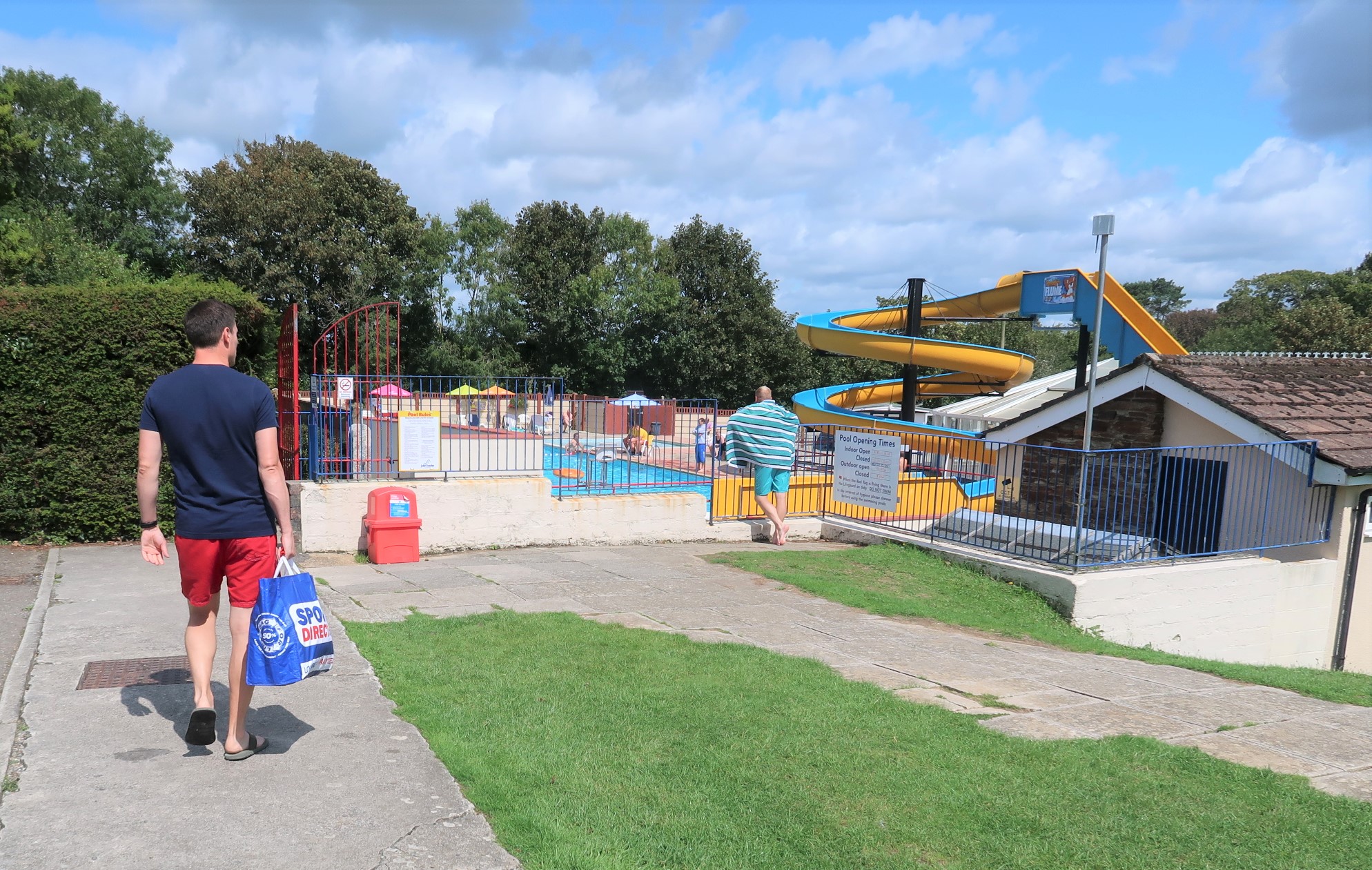 In true Knight Tribe style we had to check out the crazy golf and have a go at tennis. For a £5 deposit, we played crazy golf and when we had finished we returned the golf clubs and balls and swapped them for tennis rackets and tennis balls, which is the same with snooker cues, and when you are done you get your deposit back once you have returned the borrowed equipment.
If you are looking for a relaxing, fun and exciting break for the family then I urge you to check out John Fowler Holidays in Cornwall. There is plenty to do on-site to keep the kids entertained day and night. We had a really lovely time away together and have made lots of new memories together.
**I won this holiday**