One of the main reasons for me wanting to visit Cornwall was to visit their picturesque beaches. They always looked so beautiful in photos like something you would see abroad and I wanted to see them with my own eyes.
Whilst on holiday during the summer holidays, one of the first things I did was google beaches near Looe in Cornwall and Talland bay beach kept popping up. It was 1.7miles (6minutes) away from where we were staying at Trelawne Manor.
All the reviews were really good and near enough all of them warned you about the scary single lane road which you have to go down in order to get to this hidden gem. Well, they weren't lying, and I am so glad that we were following another car down so we didn't have to manoeuvre to let anyone past as there was nowhere to really move and I felt very claustrophobic.
Heres why.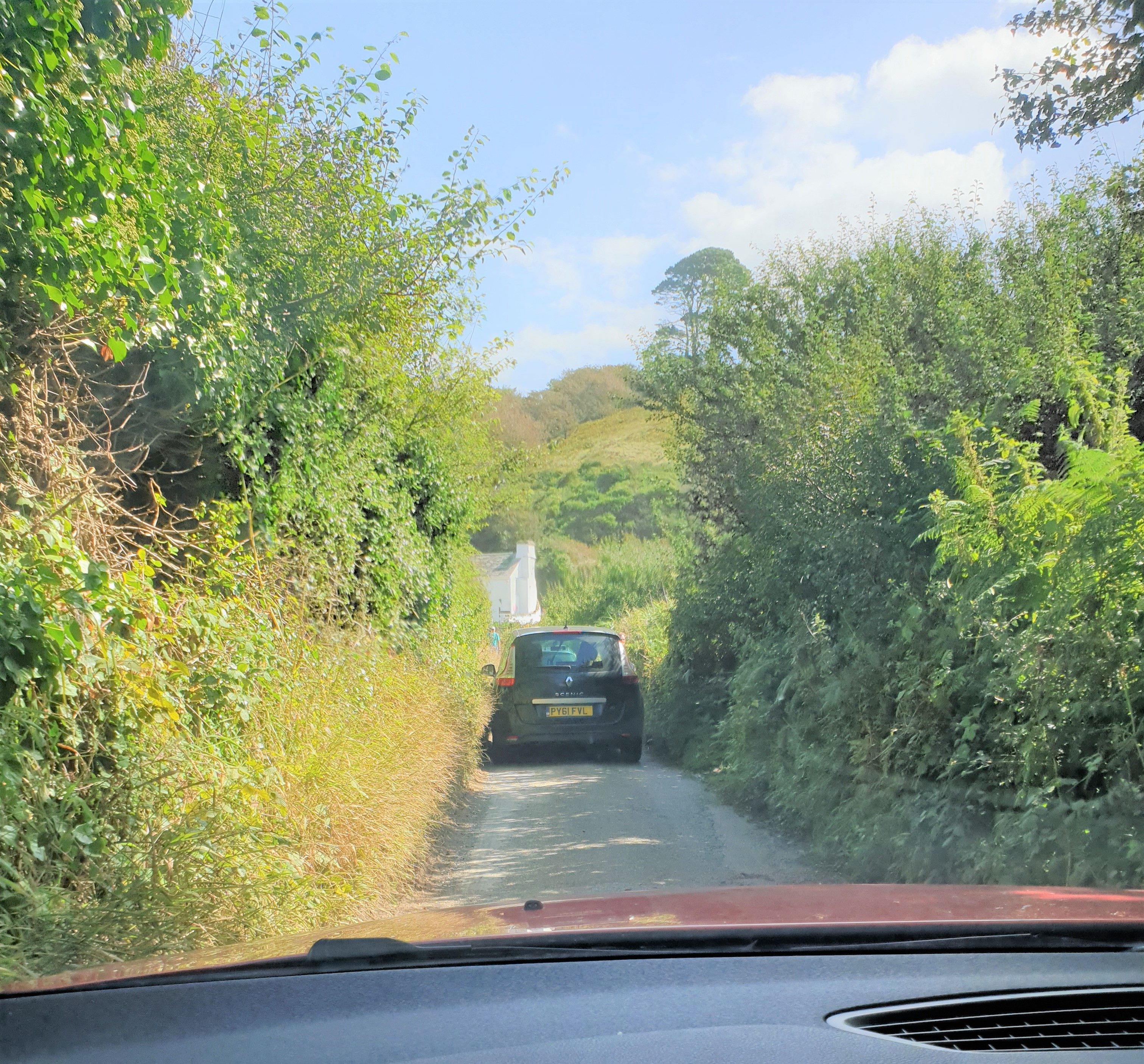 We had read online that there was a small car park behind the Beach Cafe and to get there early as it can fill up very quickly. We found where we needed to go really easily by using google maps. You will see a sign for Talland Bay beach and Cafe which you will need to follow, past the public toilets and round to the car park.
Parking is Pay and Display and for three hours I think we paid around £3.60. There are longer and shorter stay options available but we decided three hours would be enough for us. There are no disabled bays, however, because it is a small car park and there isn't far to walk to the beach anyway.
Talland Bay Cafe and shop
I was so excited about visiting this little Cornish cafe and it did not disappoint with their three beach huts and plenty of picnic bench seating to sit back, relax, and have a cuppa whilst you take in the breathtaking views around you. We couldn't go all the way to Cornwall and not have a Scone on the beach – it would have been rude not to. The kids also enjoyed tucking into their cornish ice creams.
They have a little shop where you can purchase nets, buckets, spades, wet suits, beach shoes, bodyboards and much more.
The beach wasn't your usual sandy beach. It was a mix between seaweed, pebbles, and minimal sandy patches but surprisingly the kids didn't seem too bothered by the lack of sand. Lydia couldn't wait to run into the sea and jump over the little waves with her daddy – she's my little mermaid. Emily and Leo preferred to stay on solid ground with me and run in every now and then. The water was clear like it is in the photo's I had seen, but cold, very cold, although it wasn't a particularly hot day, so I was expecting it.
After playing in the sea for a little while, it was time for a quick sandwich and then the kids wanted to go rock pooling with their new nets we had brought from the shop.
As we made our way over to the rock pools we came across this which I thought was really good and I just needed to share.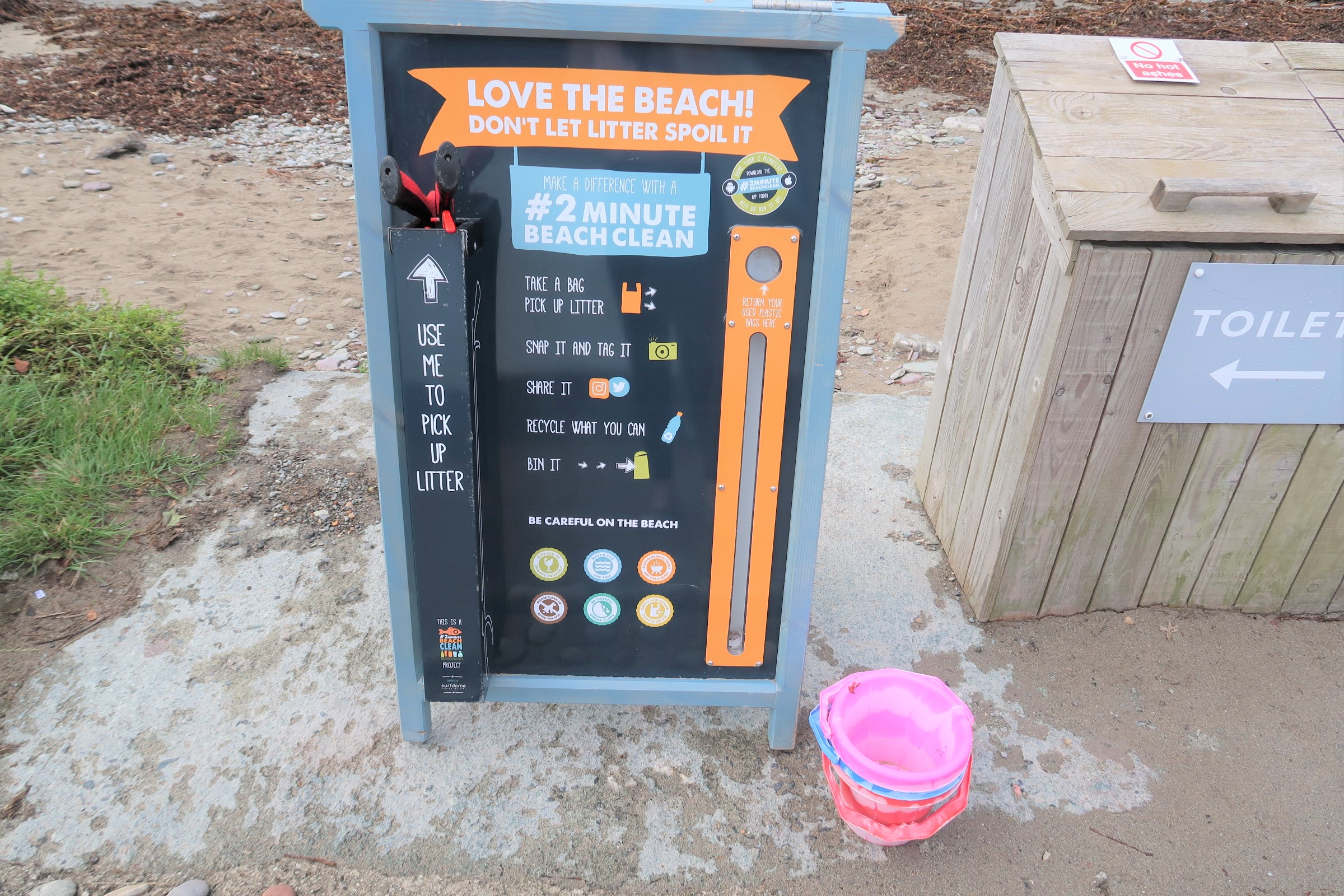 When the tide goes out, you are left with a really lovely section of rocks that housed lots and lots of little pools. The kids, especially Leo (who is now a keen fisherman), really enjoyed wandering around the rocks in search of sea creatures left behind in the pools and almost started competing to see who could find the biggest creature – or the most. Leo was pretty much straight in there, moving his nets through the pools capturing some little fish and little crustaceans.
Lydia and Emily mostly went with daddy as they searched but had not been able to capture much until nearer the end of our little rockpool adventure. Lydia was finally able to catch a larger little fish and just before we were about to leave she was able to catch a little starfish – she was very pleased with herself about this. We hunted for crabs and although we did manage to see a couple, we were unable to catch them.
Once we had finished, we returned the creatures back into the pools and said goodbye to this lovely little bay before heading home. The kids had a fantastic time, it was just a pity the weather wasn't warm enough to have enjoyed it for longer. For anyone who is interested in going, the water is cold so a wetsuit, if you have one, will help with the water. 'Wetsuit shoes' – for want of a better description – will also help as there are fish that will sting you if you walk barefoot. They will also help with the rocks when you go pooling.
I hope you have enjoyed reading my review on this lovely little gem and have found is useful. We had a really lovely day. You can read the rest of our holiday review here.
To read more on Talland Bay click here.