Disclosure– We received gifted tickets in return for a review however, all thoughts and opinions are my own.
I have been collating a variety of different attractions in Great Yarmouth in which we have visited and can personally recommend to you, our readers. This post will tell you all about our recent trip to Pleasure beach.
On the coast of Great Yarmouth is Pleasure Beach, an amusement park with various rides, stalls, games, and activities. The kids were super excited when we arrived and keen to jump on the rides as soon as possible. Once you have your pass and access to the amusement park, you can have unlimited rides.
There were only two rides that Emily was unable to get on due to her height, so plenty of choice for all kids, as well as enough danger and safety to account for the more daring and more cautious visitors. We went on all of the rides bar one, and that was simply because we had run out of time.
Lydia, who is now big enough to go on all of the rides, challenged herself to do everything and boy did she. She even went on the Pendulum – a swinging ride that does a full 360° rotation – despite my fears for her going on it. Leo unfortunately made himself feel quite sick on the spinning teacups so was less inclined to do any further spinning rides.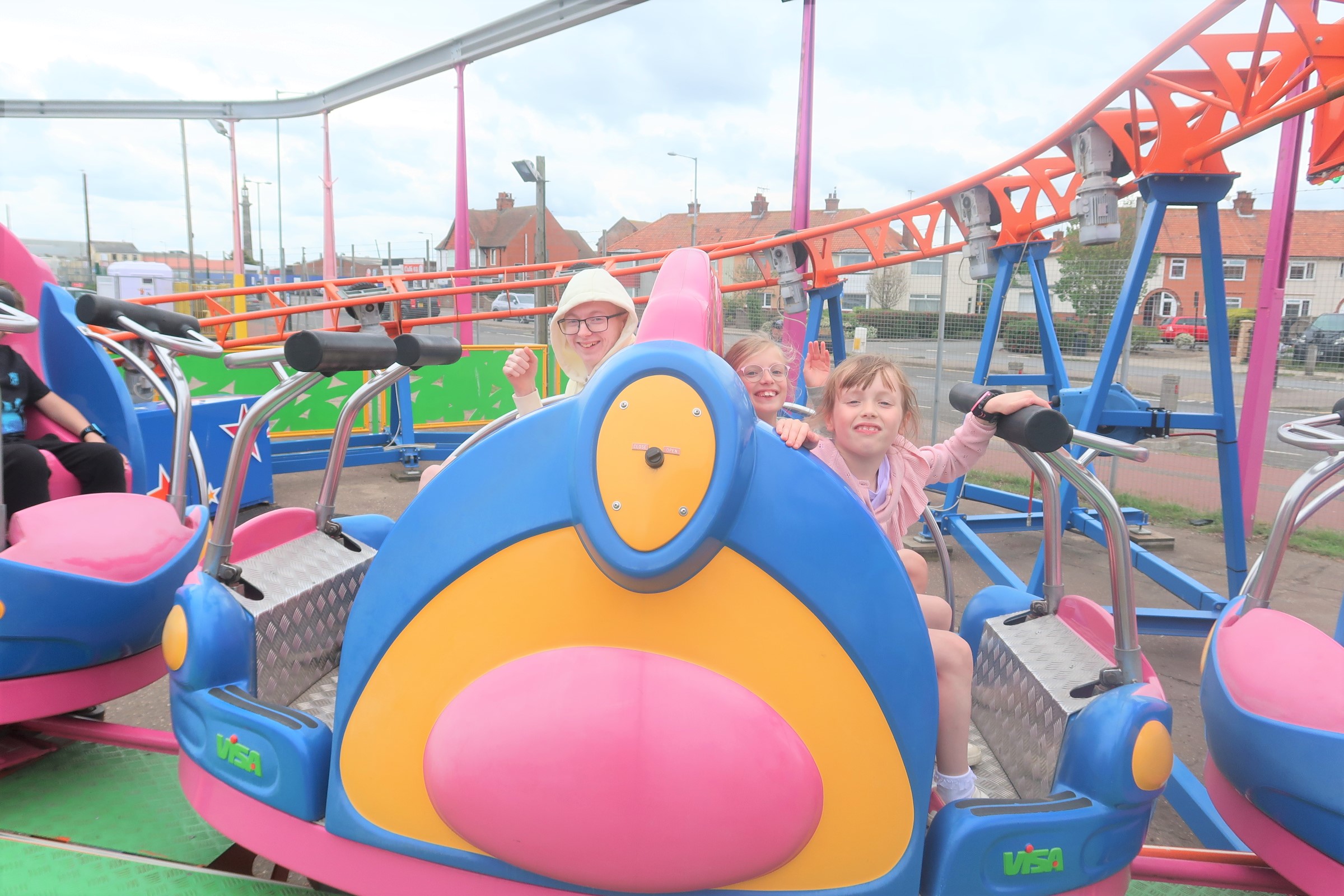 We ended the day with the 4D cinema which was really good. Lasting around 12 minutes, the movie was very good and the effects were amazing causing the kids to gasp and jump in equal measures. For those who don't know, a 4D cinema is a 3D movie where the chairs move, wind blows, water sprays, etc., so you get a real immersive experience.
We had taken our own lunch and eaten before we went in, so did not purchase any food whilst there, other than an ice-cream at the end of the day. From what we saw, the prices were as expected in any amusement park, but we cannot comment on the quality. However, the children's cone, charged at £1.30 at the time we went, was a really good size and come in a teddy bear cone, which the kids loved.
Overall the kids (and us adults) had a fantastic time. The park closes at 4pm and we arrived shortly after 1pm and that gave us just about enough time, so you could easily spend the good proportion of the day there with lots to keep you entertained. Access was really good and we had no problems getting around with the wheelchair.
Read more Great Yarmouth attraction reviews here.
Accessibility
Access to the Pleasure Beach is straight off the strip and apart from Gate A, all other gates could be accessed via a wheelchair. We entered at Gate D, which was the furthest entry point right at the far end of the park. Whilst this was a walk away from the carpark, the entrance meant that we could move across the park, accessing all of the rides, finishing at the exit nearest the carpark – something to consider for anyone going.
The entire venue is wheelchair accessible, although some rides did have steps, the vast majority had either ramp or floor level access. Staff are available to help where needed as well. The design of the park means that it is really easy to move in one direction and access all of the rides, and there is a good mix of rides to accommodate the older and younger child.
Toilets
Accessible toilets can be found at the following locations:
Pleasure Beach Inn
Behind the Haunted Hotel ride
At the entrance to the Log Flume ride
A radar key is needed for entry and can be borrowed with a £5 deposit from the Food Court (for the Haunted Hotel), from the Pleasure Beach Inn (for the Pleasure Beach Inn toilets) or from the Log Flume photo booth (for the Log Flume toilets).
Alternatively, a radar key can be borrowed with a £5 deposit from Gate A for the Pleasure Beach Inn toilets and for the Log Flume toilets.
Parking
Whilst we were at Great Yarmouth we parked in St Nicholas car park which is opposite the sea front attractions. It is a long stay carpark as we were visiting the sea front pretty much all day so that it why we decided to park here.
£6.00 for up to 4 hours
£9.30 for over 4 hours
Try find another working pay machine if one is not working, It will suggest you pay using there app but this adds an additional charge of 20p (It's not much but it's a bit cheeky if you have to do this because of there faulty machine).
We parked in the disabled bay however, we did discover on the second day that Blue badge holders can park on the sea front for Free for however long they needed.