At the beginning of July we brought a 2nd hand wooden play house, I had been looking on all the Facebook selling pages for weeks and nearly gave up until this one popped up for £60. BARGAIN!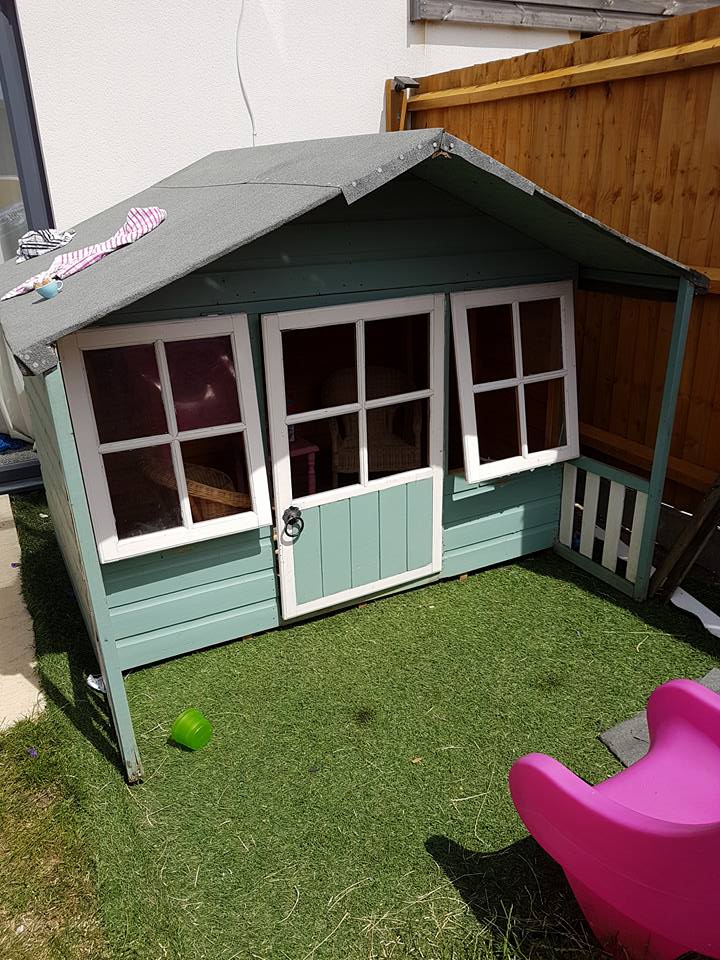 The first thing I did was go to Screw fix and buy an electric sander, which I have never used before by the way. I spent hours sanding it down to expose the wood underneath.
Please excuse the messy ground I have not figured out how to crop the photo on here yet.
The next thing that needed doing was a new felt roof, now I didn't do the roof myself as I was out, so my partner went to Homebase and purchased a roll of it and roof tacks for £20.00 which did the job perfectly.
I then decided on what colour I wanted to paint the new playhouse and decided on Cuprinol garden shades in sweet pea, which is a pastel pink colour. I loved using this paint you just give it a good old stir and then paint it on, I did it quite thick and I must of done about 4-5 coats. I did give up sanding half way through and just painted over the green and it covered it really well. What I liked about Cuprinol garden shades is that it has a 6 year wood protection and you can paint on not just  wood, but over stone, brick and terracotta and it wasn't inexpensive.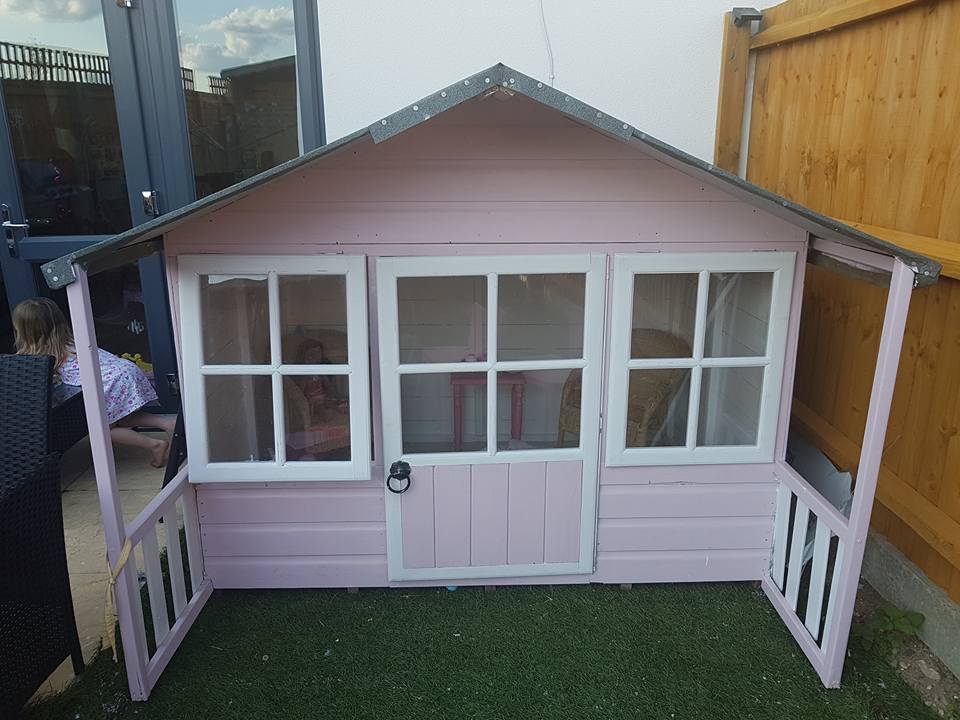 The windows were smashed when we brought the playhouse so we then had to replace them. I found a big sheet of acrylic in our local Wickes and my partner replaced the windows and beading in the window panels.
Now inside the playhouse.
This time I used Curpinol garden shades white daisy. I must of done about 4-5 coats inside as well with a 2.5l tin which I had brought from B&Q when it was on offer for £10 so keep a eye on offers.
Now I needed carpet. I messaged a few carpet businesses and asked if they had any spare offcuts I could have or buy but didn't have much luck so I went to a local carpet shop called Millwall furnishing and they were very helpful. They found me a roll of offcut big enough to have spare if I ever needed to replace the first bit I laid. I brought this for £13 and I laid it by myself using scissors to trim it to size.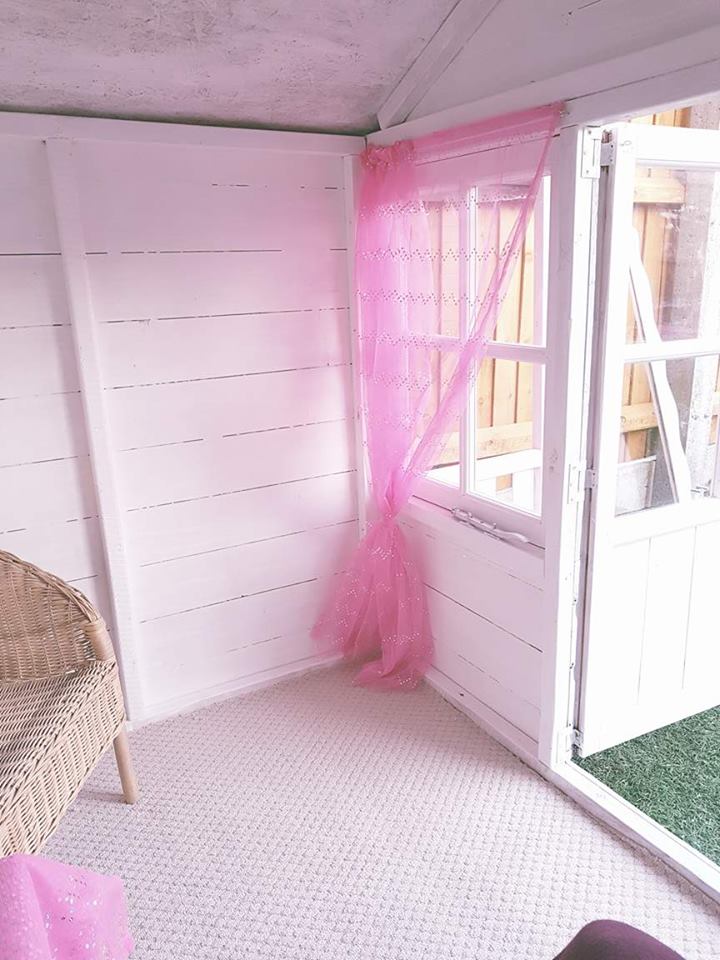 I have spent weeks upon weeks working on this house for my girlies and I am so happy that its all been worth it. At times I really wanted to give up but I kept on going and it looks absolutely beautiful, I still have a few little things to do but I am almost finished.
I went to The Range tonight and brought a Voile panel and some netting wire to make some curtains and used the bottom part which was too long as a tablecloth. I brought a £2.99 house phone from B&M and I am going to put that up on the wall as a play phone. I also brought 2 love heart cushions for their wicker chairs (which I got 2nd hand by the way for £10 months ago on a Facebook selling page and was going to throw them out)  the cushion were £4.99 each.
On the ceiling I have put a paper lantern and a pink pompom which you cant actually see, I also brought them from The Range
This is it almost finished inside. Please tell me what you think id love to hear or if you've up cycled a playhouse I would love to see.