We received complimentary tickets to this event however all thoughts and opinions are our own.
We started off the month of Halloween with a spooktacular visit to Halloween Farm within Cattows Farm in Leicestershire. Our journey from Peterborough in the car took us around 1.5hrs each way and was well worth the journey. Here's why
Parking
There is plenty of free parking on the farm with car park attendants directing you where to go. Disabled parking is at the front, just ask an attendant and they will direct you.
Tickets
Halloween farm is open from 9 am till 6 pm and tickets need to be pre-booked via their website. They offer morning and afternoon slots however once you are there, you are welcome to stay as long as you'd like.
Farm entry is £3 per person
Fantasy land is £7 per person
You can also pay online to reserve your pumpkins in the form of £10
Your E-tickets will be emailed to you and you can choose if you want to print or they can scan the codes directly from your phone.
You will then be given your Fantasy land tickets and your pumpkin tickets (If you pre-purchased pumpkins)
Setup
When you arrive you go through the ticket area into the grounds. The first section is a funfair with a selection of attraction rides, like the waltzers, ghost train, teacups, etc. The rides were £3 each and you could pay by card which was handy. Behind the fairground was the food area, plus the entrance to the pumpkin patch and fantasy land. Around the back of the fantasy land is also a maize maze.
The Day
We arrived just before lunch and after a quick scout around we decided to get some food. There were three food stalls in the eating area, one sold bacon baguettes, pork rolls and sausage and chips. Another sold a range of burgers as well as sausage and chips, chicken nuggets and chips, and other similar meals. The third was a doughnut stand. We went to the burger bar as the kids wanted chips and we wanted burgers.

The owner, Jason, was very friendly and we got talking about the day. He was very helpful and the food was lovely, costing around £4 for the kid's meals and £5 for the burgers.
You can either sit for food in a bell tent undercover or sit at a picnic bench with an umbrella/parasol. The undercover seating area was full so we sat on a picnic bench and the size of the umbrella pretty much sheltered us from the rain.
We then decided to go through to the pumpkin patch to choose the pumpkins. There is a range of wheelbarrows of different colours available for you to use. We grabbed one and went off towards the pumpkin patch. As it was a Halloween farm, there were a number of setups with skeletons, scary entrances and other amazing photos opportunities.
The pumpkin patch was a decent area filled with pumpkins. You could walk around and find the ones you want. The kids got somewhat carried away but being their first experience we did not discourage them. Once we found all the pumpkins we needed… and more… we carried on through to a shelter.
Under the shelter were a range of different pumpkins and other marrows where you could swap out some of the pumpkins you chose for white ones, green ones, and also some very small ones. Lydia insisted on choosing two very small (and somewhat adorable – for a pumpkin anyway) ones. In the shelter, again keeping in Halloween theme was an occupied toilet that had been occupied for some time given the state of the skeleton, and some ice cream… or I Scream as it was lovingly put.
You move through to Halloween street with lots of photos ops in cardboard cutouts that the kids had lots of fun playing around in. As you move through you get to the weighing station where you weigh your pumpkins. In all, we collected around 9 pumpkins, but only took away 4 (one VERY large one and three more reasonably-sized ones), as well as the two little ones for just over £20 which wasn't bad at all.
We dropped the pumpkins off at the car. Remember to take your receipt as the person by the gate will insist you produce it to prove you purchased the goods. We recommend doing this as it saves you from having to push your pumpkins around the farm for the whole day.
Fantasy Land
The next stop was to visit fantasy land. Situated in a large circus tent, this area houses the trick or treat street, plants vs zombies arena and also a maze. The maze was not up at the time of our visit but we did see the deflated ruins as we left. The trick or treat street was so much fun. Kids got to knock on the doors with a range of characters that come out and give sweets, gifts and other goodies for them to collect. The girls had so much fun knocking on different doors. We tried our hardest to find Harold but couldn't – a mission given by one of the ghoulish characters.
The plants vs zombies arena was really fun. Kids were given a bucket of foam balls that we got to throw at the zombies. We initially thought they would just be cutouts but no, these were actual zombies that we got to pelt with balls. This was SO much fun, and quite mean as David and Leo pelted one of the zombies that had been floored.
Straight out of the arena and you come across Dorothy on her yellow brick road as she asks you to go through the maize maze and find her lost friends, the scarecrow, tinman and cowardly lion. I was a bit hesitant as too many horror movies have shown these mazes to be a death trap (see The Tall Grass). We made our way through the maze and did find the characters. The Lion was really fun, but he led us deeper into the maze from where we got a little lost.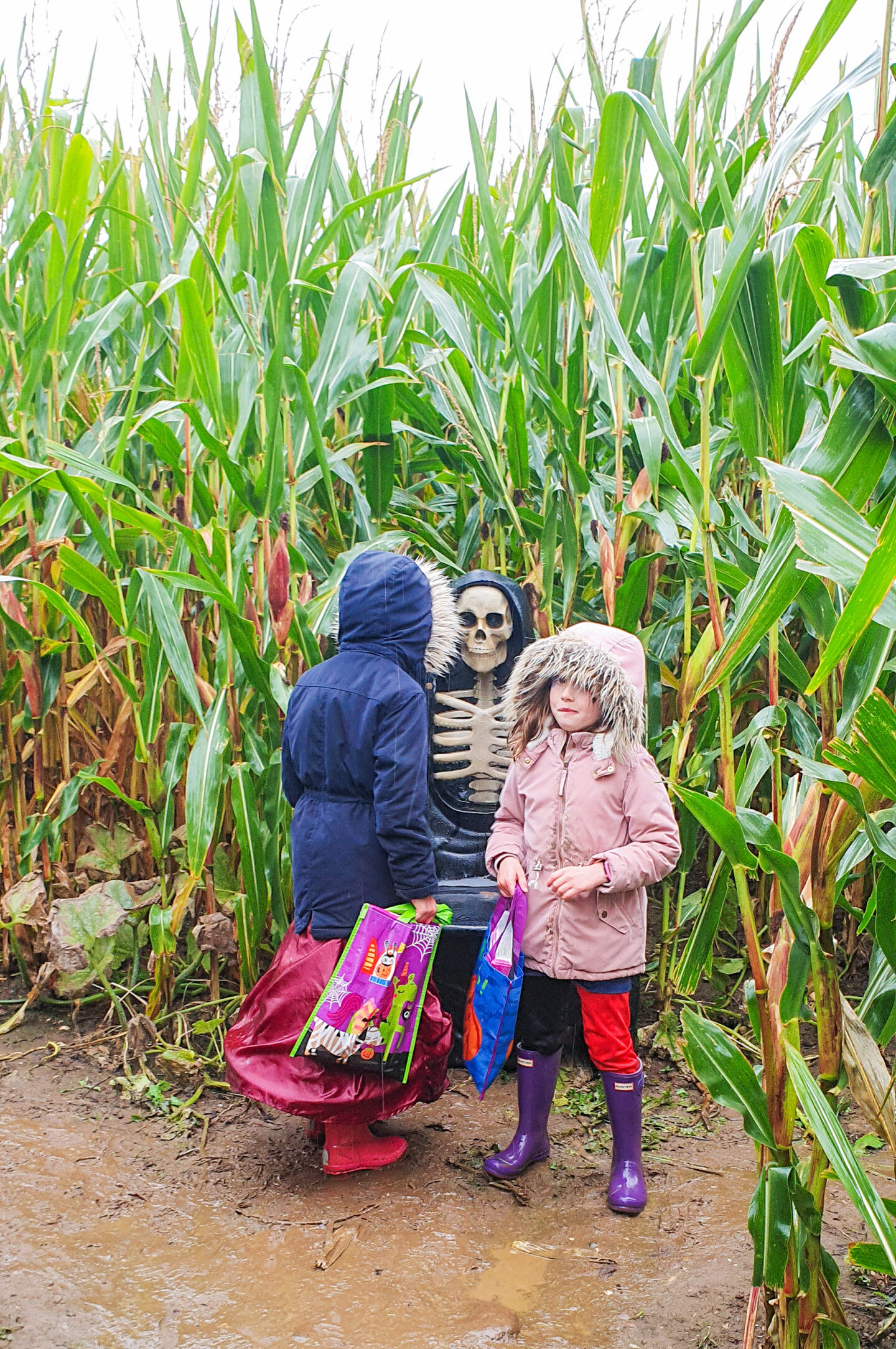 This part got a bit scary as we came upon dead end after dead end but eventually, after some backwards peddling and retracing of steps, we were able to find our way back to the yellow brick road. If you get really stuck you can call for help but we do recommend using bread crumbs!
After an amazing day at the Halloween farm, the last thing was to enjoy some of the rides before we made our way home. The kids had an amazing time and didn't want to leave. The rides were a nice icing on the cake for an amazing day. The only downside was the weather, as it rained the entire day… constantly! But other than that we would thoroughly recommend this as a day out for all.
Toilets
The one thing I dread when going to outside events is using the toilets. I can report that there is plenty of portable toilets which are all kept very clean and are also easily located around the farm.
Disabled guests
As most of my regular readers know, Leo is disabled. Cattows Farm's Halloween farm is mostly on grass and with today's weather in mind, it would have made it very difficult for wheelchair users to access. Leo got very tired and sore walking around the Halloween farm today and there isn't a lot of seated area's to take regular breaks. However, I did ask someone for a chair when we spent time inside the pumpkin shelter and they were only too happy to help.
Overall
We have had a really fun day. The kids dressed up in their Halloween outfits and despite being champs today and not complaining at all about the weather, none of them moaned about it being cold or wet because of all the fun they were having. The girls have never picked their own pumpkin from a pumpkin patch before so they were amazed by the thousands of different sized pumpkins laying there ready to be picked.
Leo said the best part for him was the Maize maze which really surprised me because he was aching so much by this point and David literally had to hold him up whilst his feet were slipping in the sludgy mood and we had got lost.
Lydia said the best part of the day for her is picking the pumpkins and going around the pumpkin displays.
Emily said her favourite part of the day was Trick or treat street. She loved knocking on the doors getting sweets and looking for Harold.
We left the farm at around 3.30 pm and got home for 5 pm and had one of the best family days in a long time and would thoroughly recommend you give it a visit.
To book your tickets – visit their website here