The Knight Tribe go to the Pantomime
We started our Sunday morning by taking the Christmas tree out of the loft and decorating it with Christmas music on in the background to get us in a festive mood ready for an exciting evening ahead of us, and to top it off IT SNOWED.
The girls decided they wanted to dress up for the show so Emily picked her Mrs Claus dress complete with tiara and Lydia wore her sleeping beauty dress with her Tiara.
We arrived at the Key theatre at 3.45pm ready for the 4-pm show and went straight to the box office to collect our tickets before heading upstairs with 3 very excited children. I knew the kids would want the light up wands so we went to the stand and bought Leo a Sabre, Emily a star wand and Lydia wanted a pink butterfly wand. They had a good selection of wands available and for the 3 we bought only cost £13.50 which I thought was a bargain because as you can see they are lovely.
We went through to our seats which are lovely and comfortable and what I love about the Key theatre is that it isn't too big and is tiered so wherever you sit you get a good view of the stage without someone's head getting in the way.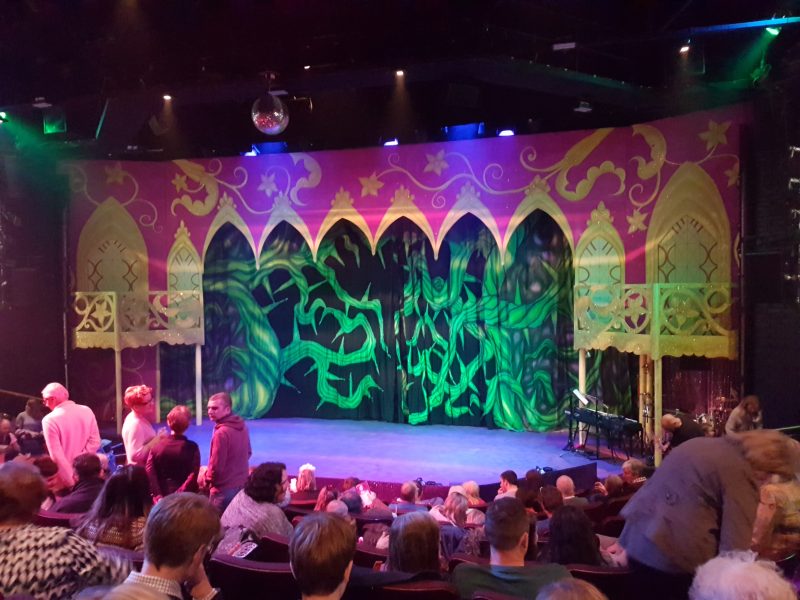 I was worried about Leo (12) not enjoying it because he kept saying sleeping beauty is for girls and that he didn't want to go as it was embarrassing (Leo's words). I have to say that there wasn't a single moment when I looked over at him and he wasn't laughing and smiling and joining in. I can assure those of you with older boys in your family that they will enjoy it. Leo said he wouldn't assume again.
Lydia (5) was in her element, she loves singing and dancing and all things glitz and glam. She had the time of her life and told me and daddy that she wants to be on the stage singing and dancing, so on top of this performance, it is inspiring young children.
It was Emily's (3) 1st ever trip to the panto and she loved it. She enjoyed being able to shout and get involved, during the second half Emily's attention did start to wonder and she wanted to go and play but was soon caught again when we had a sing-off with the other side of the audience.
I found the whole show very funny and entertaining for the whole family. It kept my 3 engaged through-out and the humour from start to finish was down to earth. There were jokes for adults that the kids wouldn't have understood but yet still found funny, jokes for the kids, jokes for everyone. Everything was funny especially the Trumps. The cast was amazing and the banter between them had us in stitches. Them too, with a couple of moments where they broke down in fits of laughter, adding to the whole entertainment.
There was a 15-minute interval halfway through the show when David bought me a hot chocolate from the bar which wasn't badly priced at £2.30 and it was probably one of the best hot chocolate I have ever had. There was also a children's pack which included Popcorn, Ice cream, chocolate buttons and a fruit shoot all for £3.50 which I also thought was reasonable.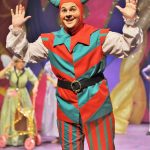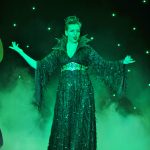 All in all the whole cast was brilliant to watch, their outfits were stunning and the whole performance was truly outstanding and thoroughly entertaining. It is a fantastic experience for the whole family to enjoy, from young children to Grandparents. I can guarantee everyone in your party will have a good time. So if you haven't booked yet, what are you waiting for? Have a look at their website where you can have a look at the seats and book directly online. It is the best Panto I have seen by far.
***We received tickets in return for an honest review***