We brought our new family member Rosie the Labrador retriever home in August 2017, she was born June 16th 2017 and came from a litter of 11 pups. We all loved her the moment we saw her. She was the smallest pup of the litter took a liking to us straight away, we had to have her. It has been hard but we have no regrets.
Malting
It's Insane how much hair comes off her, just giving her a little fuss and the hair is flying off in all different directions.  I vacuum my house 2 to 3 times a day with my much-loved Shark, if you do not have one I would seriously look into buying one, especially with a dog. I am not exaggerating when I say I can fill our cylinder up 3-4 times a day with just dog hair on my rug alone.
[embedyt] https://www.youtube.com/watch?v=0e6CbnSvZhE[/embedyt]
Food
Since changing to Millies wolfheart dry food back in Jan this year, she finally has solid poop.  Her farts still make my mum throw up but we discovered that they really stink after she has had a bone, also rawhide is now banned in our because it gives her the trots.
She does love these treats from Forthglade which as you can see come in the shape of a love heart and can be snapped into 2 pieces, and they don't irritate her little belly.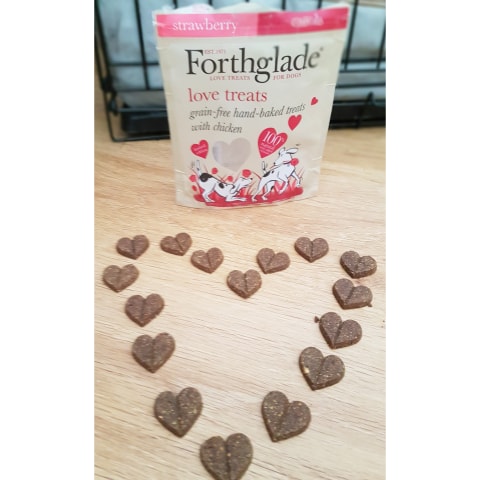 Walking
We have a lovely embankment with a huge field where we live and a meadow just outside our back gate.  In my last update, I wrote about how she pulls on the lead and it was really starting to grate on me and I wasn't enjoying walkies anymore. We purchased a Halti and it has transformed her, it is like as soon as the halti is on she goes into working mode.
We let her off the lead by the embankment and on the fields as there isn't a lot of people around. she is a very friendly dog so I have never panicked when we see someone, I just have to be quick as she's off to say hello.
We started training as soon as we brought her home and she is getting a lot better on her walks, her recall could be better but we are still working on that. She loves running through all the long grass and finding huge sticks to bring back to me.
Recently we have been working on her smelling sense as I thought it would be something new and fun to do with her. We use cocktail sausages and she is doing well with it.
We have been very lucky and was sent a very beautiful crushed velour lead and collar set by The Mutley Crew for Rosie to wear on our walks, red really suits her. Every walk we get compliments on her and her velour attire, I cannot recommend them enough.
This collar has been in rivers, snow and mud and still looks as good as the day we first received it, which goes to show just how high the quality is. If you don't own a set yet then you have to go and check them out, I guarantee there will be something/s you will love.
Socialising
We don't have a problem with this aspect at all, She is so friendly and loving and will just spend her time kissing you. She has a few doggie friends in our area, 3 of them which are Labradors and around the same age which she regularly plays with.
We do however have a problem with her getting too excited when someone comes to our house she will literally knock them over by jumping up at them to say hello. I would love your input on how to stop this please if you can shed a light.
Home life
I think because of her size I forget she is still a puppy so when she does things like take the kids toys and run outside so they chase her around the garden I try not to get too annoyed and get the toy before she personalises it with her teeth. Kristoff is missing a foot and Moana is missing a hand and the play food which the kids keep leaving outside is well and truly decapitated.
She is a playful, loving, loyal, fun, happy, energetic, very much loved puppy in our home and we couldn't imagine life without her. I  love how she will come and lay by my feet and wrap her paws around my ankle like she is cuddling me. I love how placid she is with the kids, I love the very strange sleeping positions she gets her self in, I love how excited she is to see us when we walk in.
All that aside, she has ruined our garden which is now currently being slabbed.
Sleeping
Rosie has been crate trained since the first day we brought her home, which for all of us works well as I am not out for long durations anyway. At night times all we have to say is "Rosie, go to bed " and she takes her self to her crate, she gets a kiss and a cuddle and we see her again 7 the next morning. As she gets older we are hoping to abolish the crate and give her some freedom. During the evenings she loves cuddling up on the sofa, she sleeps with her head tucked into her front paws and it is soo cute.
Breeding
I really wanted to let her have the experience of being a mummy. I did all my research regarding health checks and costs as well as what it would entail. We were going to wait till she was 2 before starting the process, however now I have changed my mind and thinking of having her spayed.
From bringing her home at 9 weeks old, it hasn't been easy but it has been so rewarding and as she gets older she is getting soo much better. So for anyone thinking of getting a dog please read my previous posts because I'm not going to lie I regretted getting her for a while because I couldn't deal with the poo, the walks, the chewing, the dog hair, the zoomies. I was used to a tidy dog hair free home however I knew I wasn't going to give up and persevered and the chewing calmed down, the walks are now fun because of our training, the poo is solid and not in the house like it was when she was learning, I'm on top of the dog hair with my shark vacuum and she is so lovely.