Ding Ding Round 2
The saga continues 13 days after Lydia's first spot appeared. Emily came home from pre-school yesterday trying to scratch her back so my mum had a look at her back where she was itchy and sure enough, there are spots with clear liquid blisters there, only about 4 but definitely chicken pox.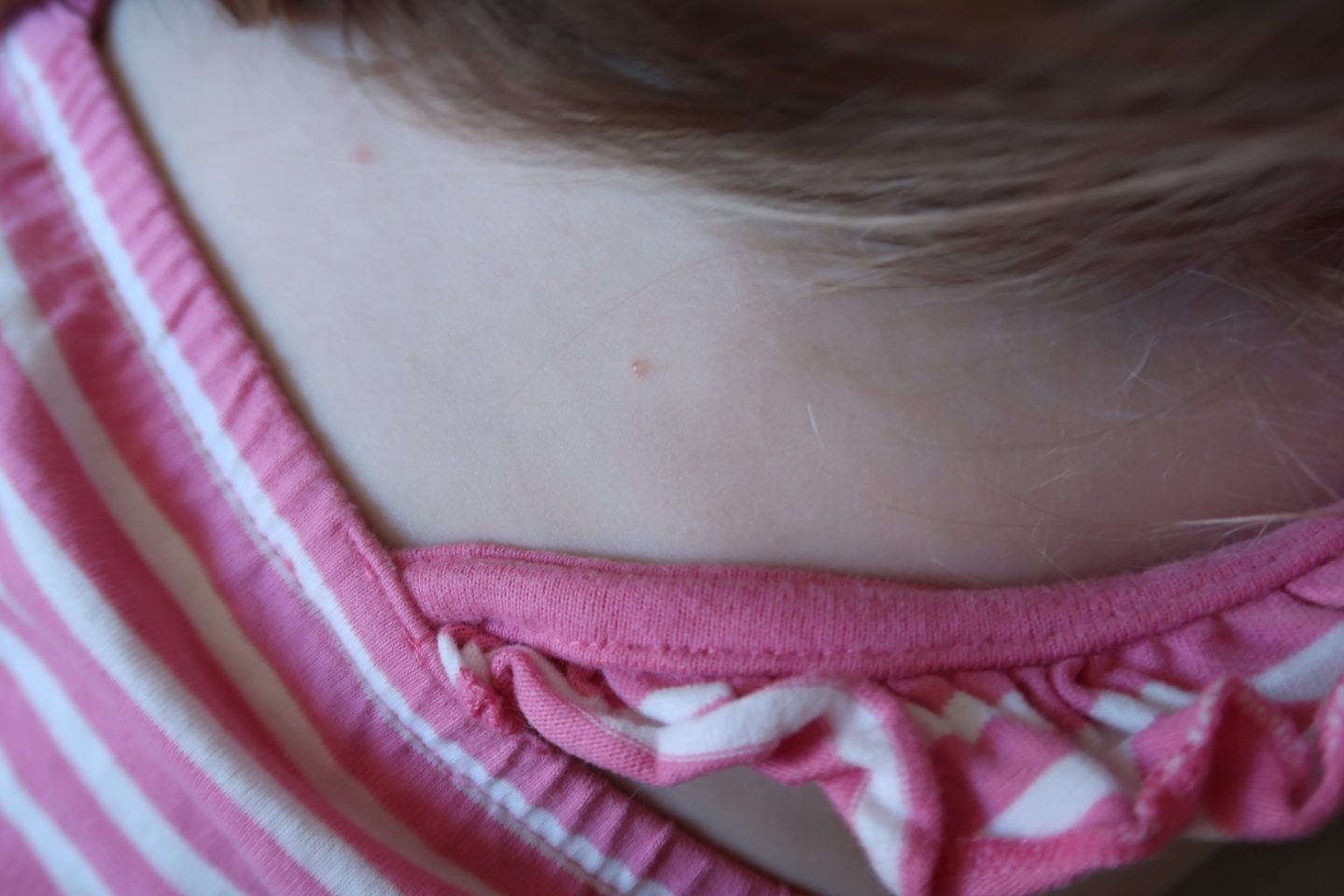 Day 2
She seems well in herself this morning, she had a good full nights sleep. She woke up with a few more but not covered. Luckily I didn't use all of the Virasoothe and Poxclin and have lots left. It says on the back use within 30 days. As the day progressed she wasn't her usual self she turned very emotional clingy and reserved.
Day 3
Another full nights sleep for her last night. She woke up happy with a few more spots appearing but well in herself. She ate her breakfast and our plan for today was to just chill on the sofa together and do nothing. throughout the day you could see more spots appearing and she was starting to feel uncomfortable so I made sure I kept covering her with the Poxclin I had stored in the fridge and she spent the whole day with a very light large cotton T-shirt on and I kept her hydrated on ice poles when she didn't want her juice. Milly has about 3 blisters around her mouth, lots in and around her ears, in her hair, in and around her bum crack and front bum, in the palms of her hands and under her armpits. She has started to feel poorly this afternoon and her temp was creeping up so I gave her calpol and she had a lovely little nap. She is being a little soldier.
Day 4
Today was peak day, I thought it was yesterday but she has woke up absolutely covered and feeling very uncomfortable and itchy. She spent most of the day having little naps and in-between the naps she was having oaty baths. She also needed regular doses of Piriton syrup to help ease the itching as well as calpol to keep her fever down. As well as previously trying Virasoothe and Poxclin I decided to try calamine lotion for the 1st time. It was like a liquid chalky texture and went absolutely everywhere, definitely not the easiest thing to apply however it seemed to have helped as she then went on to have a really good nights sleep.
Day 5
A complete turnaround. I had to wake her up this morning and she woke up with a huge smile on her face and no fever. She ate all of her breakfast and drink and was back to her normal happy bubbly self. Still itchy so we continued with the piriton and plenty of fluids
2 weeks on
Milly is her usual energetic bouncy self. Her spots are still there however they are fading slowly.
3 Weeks on
She has a lot of scars from her chicken pox, however, they are fading very very slowly, She is also getting these red spots come up in random areas that look like bites, I have been told other children have had them after their chicken pox had gone. Weird.
A FEW HANDY TIPS 
DON'T USE IBUPROFEN

CUT NAILS

USE SOCKS AS SCRATCH MITTS,

UNLIMITED OATY BATHS (PORRIDGE OATS IN A SOCK TIED WITH A KNOT AND PLACED UNDER A RUNNING TAP IN THE BATH)

KEEP HE/SHE COOL AS IF THEY GET TOO HOT THEY ITCH MORE ( LOOSE COTTON T-SHIRT IF THEY DON'T WANT TO BE NAKED)

STOCK UP ON CALAMINE LOTION, PIRITON, CALPOL, POXCLIN, VIRASOOTHE

KEEP HE/SHE HYDRATED

DON'T PICK

REASSURE THEM

KEEP VIRASOOTHE GEL AND POXCLIN IN THE FRIDGE FOR EXTRA RELIEF WHEN CHILLED

ICE POLES TO HELP KEEP THE TEMPERATURE DOWN AND STAY HYDRATED
Read about Lydia's chicken pox here