Create your own perfume with Project mc2 Perfume maker
Since watching the programme I find it very refreshing seeing her take an interest in experimenting and seeing what she can create.
I remember when I was a little girl, I used to make all sorts of weird and wonderful concoctions and I love that now being a 'geek' these days is associated with being 'cool', which is great as it will encourage kids to really want to learn without the fear of being name tagged.
Like any budding scientist, having a lab is a must.
Setting up is very simple as everything just clicks into place.
Secret agents Lydia and Emily go to work on their experiment, a perfume which makes you tell the truth (they made that bit up but it fits).
In the box
Includes a perfume station with pump and tubes, a beaker, 3 perfume spritzers, 2 scents (Poppy and Violet) , 2 pipettes and a recipe booklet.
The only thing you 'need' is distilled water, which you can buy in any supermarket for less than a pound/dollar. Although we used tap water, it still smelt lovely and the girls were impressed. You can also add food colouring to the water to make the concoctions more exotic, adding to the fun and adventure.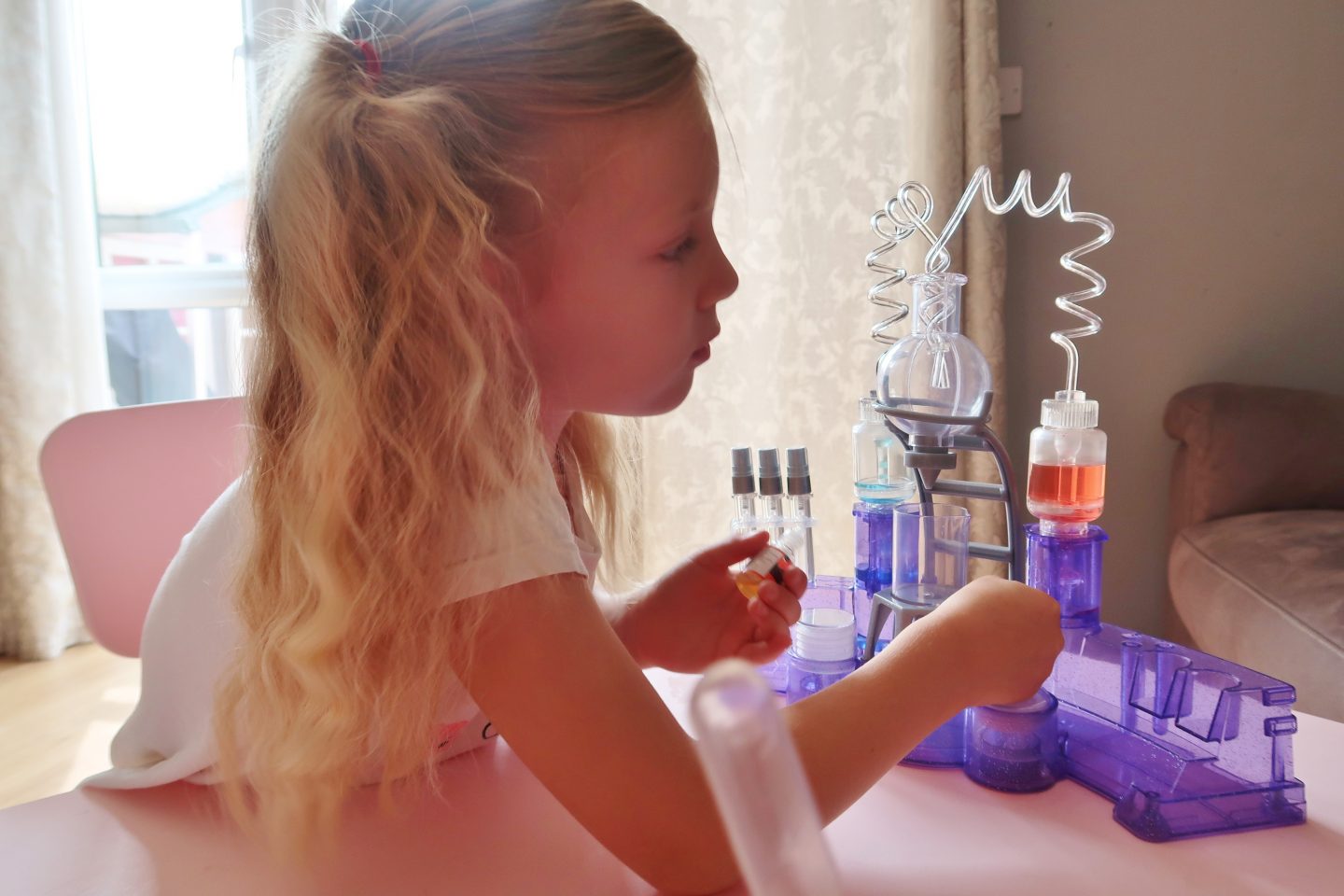 Like the project mc2 ultimate spy kit which you can read our review here. This product also focuses on S.T.E.A.M. which is an educational approach to learning that uses Science, Technology, Engineering, the Arts and Mathematics.
After making their perfume, Lydia & Emily enjoyed testing them out on themselves and their friends.
The Perfume maker kit and has an age range of 6years + and retails at £34.99.
I can see why this is aged at the range it is so that the child (and adult in my case) gets the most out the product educationally aswell as having fun Lydia will be 6 in October and she followed the instructions and understood what she was doing.
This is a brilliant kit for any little girl or boy and in my opinion is worth the price tag  for encouraging geeks to be cool.
Adrienne Attoms – "Pretty brilliant, huh!"
*** I received this product in return for an honest review***