Emily turned 7 this week and wanted a themed carnival birthday party. Okay, I thought, this doesn't sound that bad. I had three weeks to plan it so, I got a pen and paper and sat down with Emily to discuss what games we should have. I wanted her involved as much as possible in the planning and she wanted to help.
We scanned through Pinterest and Facebook and got some ideas. Some were very simple and easy to do and others needed a little bit of work so, we started on the easy games first.
Throwing a themed carnival birthday party
Tokens to pay for the games
I wanted to make this just like a real carnival and by doing so I wanted to let the kids be able to pay for the games they played, so I brought tiddly wink counters and organza bags. Emily evenly disputed the tokens between the 20 bags and handed them out after the entertainer had finished and the games started.
Tokeneer
This is a game Lydia made herself using a piece of cardboard, a cardboard egg tray and giant lollypop sticks. Lydia created this game so that when the kids ran out of counters they could come to her stall and get some more. She wrote on the bottom of the stick a number and whatever stick the child pulls out was the number of tokens they got, she then mixed the sticks up. This game was a free play game.
Tin Can Alley
We asked our family to save their tins over the last three weeks and when I collected them I just popped them in the dishwasher. I didn't bother to cover them but you can do this with plain paper and a glue stick if you wanted to.
I borrowed my sister's sports set that she brought from Amazon for the bean bags. I was going to make the bean bags myself but didn't need to in the end.
Ring Toss
This was an easy game to as I just used the cones and rings from the set brought above.
Guess how many sweets are in the jar
This is a nice easy one to do. We made the form using Excel with two sections, one for name and the other for guesses. I tea jar from Home bargain for 79p and filled it with sweets counting them as they went it. At the end of the party, the person with the guess closest is the winner and takes the jar of sweets home.
Splat The Rat
One thing that couldn't be missed from our carnival birthday party was Splat the Rat. This one took us a few days to make because of the painting. Our neighbour was throwing a decent bit of wood away so I asked if I could have it. I sawed it in half and rang our local plumbing shop to see if they had any offcuts. I told him what I was making and they were only too happy to help and didn't charge me for the pipe, I only paid for the bracket which was about two quid.
Emily helped me paint the red and white stripes and I printed some rat silhouettes, cut them out and stuck them onto the board. You will need a bat or something to hit the Rat with.
We made the Rat from a black odd sock. I filled it with stuffing and added some rice in for a bit of weight, then I tied an elastic around the top half to make ahead and stuck some eye stickers on it.  For the tail, I just cut around the top of the sock leaving a long piece.
Lolly Pop Pick
This one was Emily's baby. Another popular game at a Carnival Birthday Party. Emily made this one on her own with very little help from me. We used a sturdy cake box and covered it with plain white paper, then Em Painted it Red. I dripped the holes in and Emily placed the lollypops in. We marked a certain number of lollies with a coloured pen and the kids had to randomly pick a lolly and if they pulled one out that had a coloured tip then they won the lollypop.
Wash a wally (Splat)
I was helping my friend break down an old wardrobe and these are actually made out of the backboards from it. There are two boards here and I asked my niece if she wanted to paint it for me, she did an amazing job. My brother in law (Tasha from mummyandmoose husband) cut out the head hole and made some back supports for me. I then brought a pack of two giant sponges from Poundland and cut them in half. All you need is a volunteer who doesn't mind having wet sponges lobbed at their face and a bowl of water. This fits in perfectly for the theme of a carnival birthday party.
Hook a Duck
A nice and easy one to do and the kids LOVED IT.  I purchased all of this from Poundland. We marked the bottom of a few of the ducks with coloured nail varnish and those were the ducks that won the kids sweeties. HANDY TIP – Glue gun a penny to stick to the bottom of each duck this will prevent the ducks from tipping. This is something that we didn't do however if we had time would have been handy.
Tattoo Parlour
No carnival is complete without a tattoo parlour. I brought two packs of 24 from Amazon. Teamed with a bowl of water and some towels it was a popular part of our party. There are hundreds of different tattoo designs available to buy so you can choose tattoos to match the theme of the party. We chose a mix of superheroes and animals so although not entirely matching our carnival theme there was something for everybody.
Pinata
I had actually forgotten all about this. I had brought a unicorn one from Aldi and a 20kg tub of sweets from iceland to fill it halfway. Kids loved doing this but in the end, David gave it the last whack and all the sweets flew out everywhere like an explosion of sugar.
Find the ball
This game is a simple one to create, all you need is a few paper cups and a ping pong ball. You need a minimum of three cups to play this game. The idea of the game is for the player to guess which cup the ball is in (HANDY TIP- Use coloured plastic cups and double them up so the player cant see the ball. I used the cups and ball from a game I already had at home called 'Beat That' however, you can buy cups and ping pong balls for as little as a pound each.
Prize Table
I brought things like bouncy balls, make your own aeroplanes, yellow stick men, bubbles, punch balloons (HANDY TIP -fill them with rice to make a noise), rubber fish which we placed in bags of water to duplicate the real thing and popcorn cones. I also went to home bargains and brought a bulk load of those popular fidget tubes which went down very well and was only 69p each. The prize table looked amazing and there were so many positive comments. This was probably the most expensive part of the party, however, depending on how much time you have you could probably pick up some cheap items.
My mum made snakes on sticks and did a fantastic job with them, she made around 23 of them and we worked it out that they cost her around 30p each.
Food
We planned the party to be in the afternoon so that we could do minimal food and because it was a Carnival birthday party we thought that hotdogs would be the most appropriate and iconic snack to have. I brought hot dog trays from Poundland and took along tomato ketchup, mustard and a couple of onions (HANDY TIP- During summer months, a lot of shops sell squeezy coloured bottles which would go with the theme really well.)
Drinks
Everyone had their own paper cup with their names on it so that no one got mixed up. There was always an adult supervising the drinks to help the child find their name and the drink were always left on the counter to stop and spills.
Popcorn
We made popcorn cones and used them as prizes. We were going to hand them out during the party however, all the children and adults were too engaged in the activities around them which were fine because they were all individually wrapped they took them home with them. I brought buckets of popcorn and some sweet cone bags and pegged them to a sock peg hanger. This was cheap to make and really added to the theme. HANDY TIP- You can do the same with candyfloss or I have recently discovered after the party that you can buy small tubs from Home Bargains for 29p each.
Birthday cake (Doughnuts)
Emily loves her doughnuts and it isn't the first time she has opted for them instead of a birthday cake. I brought a doughnut board from the range for £4.99 and three trays of ring doughnuts from Asda the night before. We put 7 candles in a doughnut and this is what she blew out and then ate. By having doughnuts instead of cake not only was it cheaper but a lot less messy as it isn't as crumbly..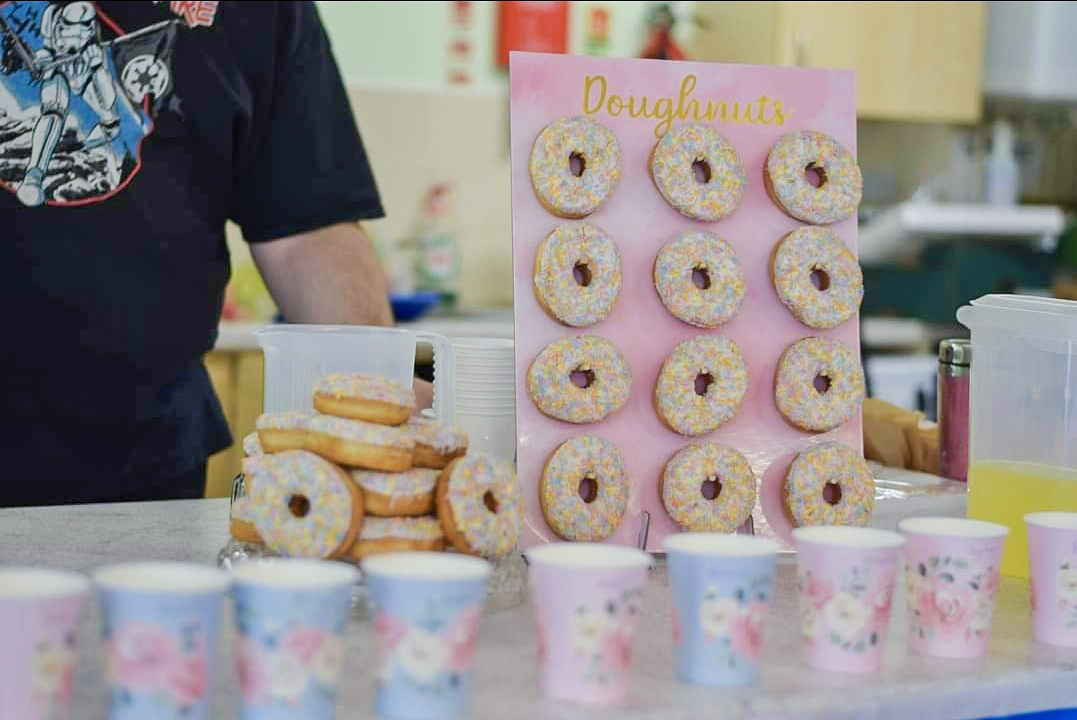 Decorations
To really give your venue the look and feel of a carnival birthday party then you need to spend some time on decorations. The stalls and games are all great however, what gave it the wow factor was the decorations alongside everything else. This can all be achieved quite cheaply if time was on your side. This is what I did.
Backdrop
Being a blogger I already had the bits to hang a backdrop however you can do this by using a washing line or a bit of string and some begs (Handy tip- use multi-coloured pegs) The backdrop was brought from Amazon (Insert link) Although the most expensive part of the decor was the backdrop it created a focal point and was later used as a backdrop for photographs and really gave the room the themed carnival birthday party look that I was going for.
Balloons
Lots and lots of multicoloured balloons (Handy tip- Use bright, bold colours) A few years ago I wrote a blog post for Zuru promoting their product Bunch O Balloons. Back then little did I know how much I would come to depend on this product for our parties. Bunch O Balloons are brought as bundles of balloons usually in packs of 24 that you inflate using their specific electric pump as it has a special attachment.
Now what makes them great is that 24 balloons all inflate at the same time, all self-sealing and attached to curling ribbon. All you need to do is cut the little pipes to separate them and there you have it 24 individual self-inflating balloons in seconds. It's something I use and depend on for every occasion. Read more about Bunch O Balloons here.
Crepe paper
Multi-coloured crepe streamers worked very well to create a high top tent feel. We brought these from Amazon and you didn't need much however with crepe streamers I don't think they're such a thing as over the top.
Table cloths
I wasn't going to bother originally with tablecloths but I am glad I changed my mind. The red really made the venue pop. I brought paper tablecloths from Wilkos for £2.49 each. I kept the tablecloths that didn't get ripped or wet for any future parties.
Signs
I went online and searched 'free blank carnival templates' and printed the amount I needed. Emily helped write the names of the games and then I laminated them as originally her party was going to be outside. Laminating them made them weatherproof and gave them more of a professional look.
Stickers
I made my own stickers for the party but that's only because I know how to do it. If you don't want the extra hassle of doing this then a lot of people offer this service online for a decent price. I wanted to make name stickers for all of the kids there so they knew each other's names to talk to each other and for the adults to know who they are. I also made stickers to go on Emily's popcorn cones.
Entertainment
We decided to hire a local party entertainer to come as a ringmaster because Emily loves the film the greatest showman and again this would fit in with our theme perfectly. During the hour she taught the kids two dance routines from the film, a couple of games and then did a birthday presentation which included a small gift for the birthday child. If you are local to Peterborough, Beyond A Princess is the company I used. She was very good and kept the kids engaged the whole time. This then allowed me to mingle with some of the parents at the party as well as making sure the final touches were complete and grab myself a drink before the games started.

Setting up
Allow yourself plenty of time to set up and get as much help from people as you can beforehand. I couldn't have done this without losing my marbles if it wasn't for my mum, sister Natasha, her husband, my little sister, Jaymee and all of my nieces and nephews. They all took on their own jobs to help me out. My older nieces and nephews and my son all ran their own stalls and they loved it, they did a fantastic job. Special shout out to my nephew who had wet sponges thrown at his face for a good hour.
I really hope that you have found this blog post useful and have an fun and exciting carnival party
Below are some of the items that I had ordered myself from Amazon.
*Disclosure- Amazon affiliate links*
Here is the links to some items that I didn't buy but if you have more of a budget would look amazing.