I am so excited to show you what I have picked out for this year's children's gift guide idea's. Some of these toys made it to the Top 10 most wanted however, they are all really brilliant toys and I know you will agree.
I have placed the links within the headers for all of these items which will take you directly to the website -None of my links are affiliate links.
I hope you enjoy my idea's and would love to know in the comments if you purchased any.
Live that Play-Doh pizza life! There's a pretend pizza party just waiting to happen with this toy oven for kids aged 3 and older. No batteries or electronics – just imagination! Stamp a pizza crust in the oven, then go wild creating and customising. The cheese grater shreds Play-Doh compound into grated cheese, and the oven playset has plenty of moulds all around it to make pretend pepperonis, silly veggies and lots of other outrageous toppings. When it's ready, display it with the pizza paddle or on the pizza stand and slice it up with the cutter.
Who knows what Mr. Potato Head will say – or sing – next? This interactive talking toy is fun and entertaining for kids as well as adults. Just attach his mouth and press the buttons – his lips synchronise to wacky songs and some really funny phrases! The talking toy features over 40 phrases and 4 parodies to popular songs, including a parody of the song 'Lips Are Movin'' by Meghan Trainor.
Disney fans will love the Classic Collection Puzzles, featuring images inspired by the original movie posters with the original and classic artwork. The richly detailed images provide a nostalgic effect, perfect for any fan of classic Disney movies.
Teach your own baby owl how to fly! Owleez need your help to learn how to fly. Practice flying together by swinging Owleez through the air – they love it and make triumphant and happy noises! With enough practice, Owleez will be ready to fly! When they are ready, they will let you know and will really take off from their nest! Just like a real baby bird.
Cute, playful and full of love! You'll be head over heels for the Pets My Alive Magical Unicorn! With over 20 different ways to interact and play these majestic characters are filled with life and love. Her beautiful stable is the perfect home for any unicorn. She comes alive with lights, sound and movements!
Fall in love with Luvabella Newborn, the sweetest interactive newborn baby doll! Luvabella Newborn is so real, she'll amaze you! With her natural expressions, realistic facial movements and sounds, this baby doll is truly lifelike! Luvabella Newborn needs your love and care, and there are so many fun ways to play with her! If she's hungry, feed her with her bottle and she'll suckle on it, just like a real baby! She'll get gassy when she's feeling full and needs you to burp her. Luvabella Newborn affectionately responds to your loving touch!
Discover the mighty 5-in-1 Outdoor Measure-Mate™! Learn, explore and experiment with measurements in a new and exciting way. Features up to five different tools, including vertical measure, callipers, a trundle wheel, spirit level and measuring stick.
Nestlings have a super sweet surprise just for you! Love and care for your Nestling, responding to her needs, as her heart grows brighter her babies grow bigger. Her eyes show you exactly what she needs, is she sick? Does she need a hug or is she tired? Play with your Nestling till the magical moment arrives – her babies are here!
Meet Pooki, the new generation of interactive pets! Through AniMotion technology and internal projection, Pooki can display emotions, adventures, presents and cartoons on it's screen. With over an hour of content and reactive animatronic head and ears, Pooki interacts with its owner creating a friendship.
This adorable baby elephant has over 100 movements and sounds! With an animated trunk, Juno can kiss, pick things up, make adorable sounds and play lots of games with you, like Peekaboo, Flying Mouse and Build-a-Tune. Give Juno her peanut and toy mouse, and she'll interact and play with them too.
Retro gaming is so HOT right now and has been for a while especially with my oldest boy, Leo. I know he is going to love these as well as other keen gamers out there. They are also ridiculously good value for money.
Retro arcade games are also making a comeback. These Space invader item's are from the same website as the game boy stuff. You need to check their website out as they cover all sorts.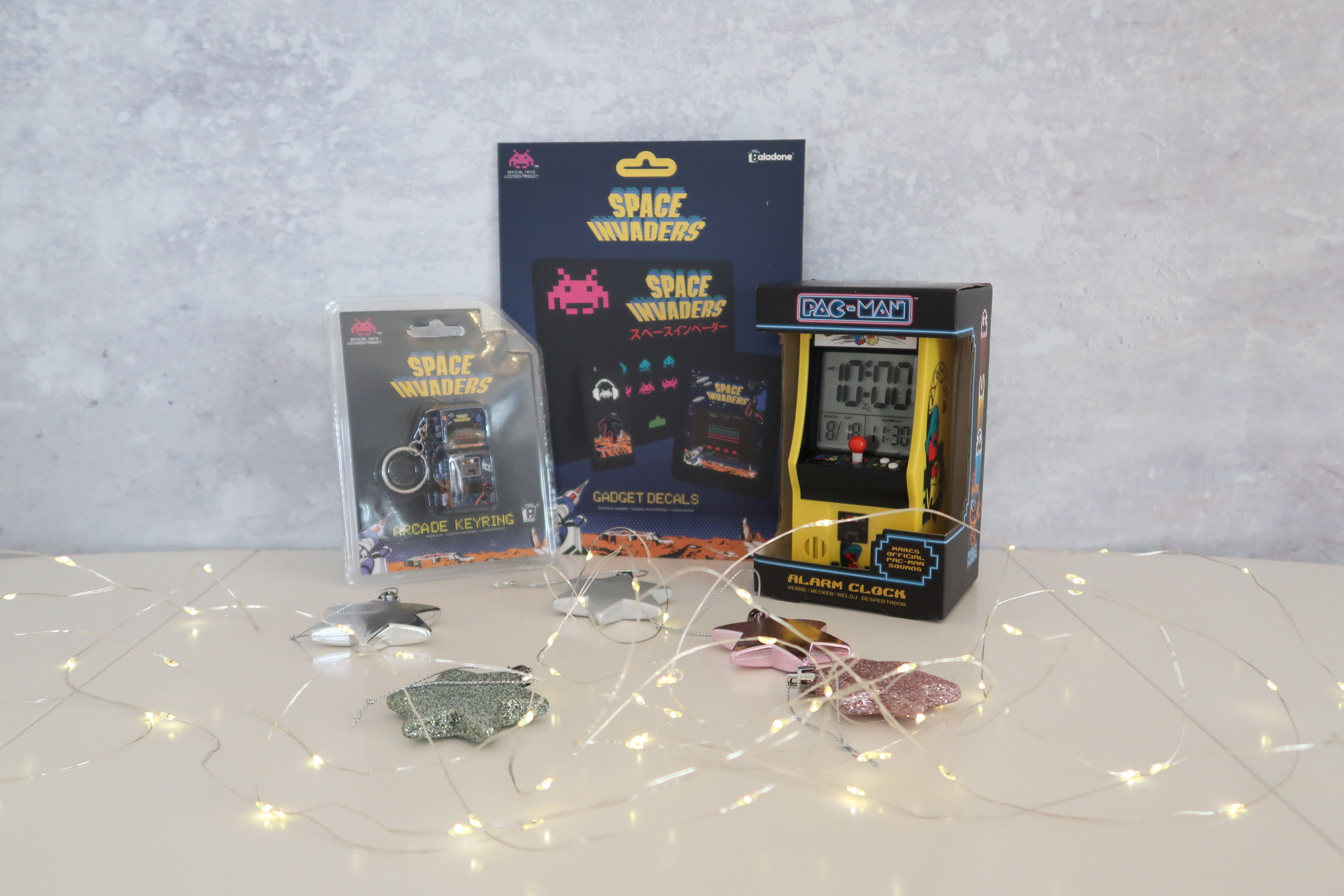 Lumies are Interactive Plush Pets That Change Colours! With a simple tap, Lumies can match ANY colour and even turn colours into musical beats—up to 1,000 possible mixes! Keep Lumies feeling happy and balanced by "feeding" them with colour. They'll react with over 100 sounds and phrases depending on their mood and the colours you find.
From the Awful Egyptians and the Rotten Romans to the Vile Victorians, the incredibly popular Horrible Histories stories have fascinated children for years. Full of foul facts with the usual dreadful puns and groan out loud jokes, this colourful collection is packed with famous villains as comic strip characters. A must for enthusiasts of the Horrible books and TV – all done in the best possible taste!
The future looks sweet with the all-new Lucky Fortune collectable bracelets from WowWee. Each package contains a fortune cookie-shaped bracelet holder with a surprise Lucky Fortune charm bracelet and matching paper fortune. Crack it open to see what the future has in store for you! Read my review here.
A Wheatfield with Cypresses is one of the National Gallery's most famous paintings, and now you can recreate Van Gogh's masterpiece through dot art. This fun and relaxing activity book is suitable for both children and adults.
John Adams BLO pens – Neon, Pastel and Shimmer
I remember always wanting these when I was a little girl and now here they are. These would make fantastic stocking fillers for any girl or boy.
The Invisibility Cloak first made its appearance in Harry Potter and the Philosopher's Stone. Now you can own your very own all-new Wizarding World- inspired garment that will make it look like anyone or anything has disappeared before your eyes. The Invisibility Cloak, developed by Wow! Stuff in collaboration with Warner Bros. Consumer Products, allows you to recreate iconic scenes from the Harry Potter films.
Check out this super cool Playmobil set! The Playmobil 9275 City Life Tiny Paws Pet Hotel is fully equipped with everything your pets might ever need. With lots of food and toys available, the animals can enjoy the cosy pet hotel. Call your pooches in for mealtime or take your parrots out for some playtime in the large outdoor area where all animals can get some exercise and fresh air before settling indoors for bedtime. Includes lots of animals, 3 Playmobil figures and many accessories.
A personalised journal or diary for your child to write down how they are feeling.
A5 size 50 days of colour spreads with prompts for the weather, a drawing, words to describe how they feel that day (there is a list of words to help at the front printed on heavier card) and space to write about what happened and how they felt. Every day has a space for the best thing that happened.
Disclosure: We received these sample's for the purposes of writing my gift guide.