Labrador puppy training so far.
Rosie, our beautiful golden coloured pupster.
This little girl was born June 16th, 2017 and came to live with us Knights Friday the 18th of August at 9 weeks old. We have had her for 5 amazing days and I am not going to lie it is tiring.
She has settled into our madhouse so well with no crying at all in this short space of time and I am relieved she didn't cry it would have broken my heart. I already felt bad taking her away from her mummy, daddy, sisters and brothers.
My oldest son Leo never got to see Rosie when we went to choose her so the first time he saw her was when we picked her up and his face was pure love, I have a photograph 🙂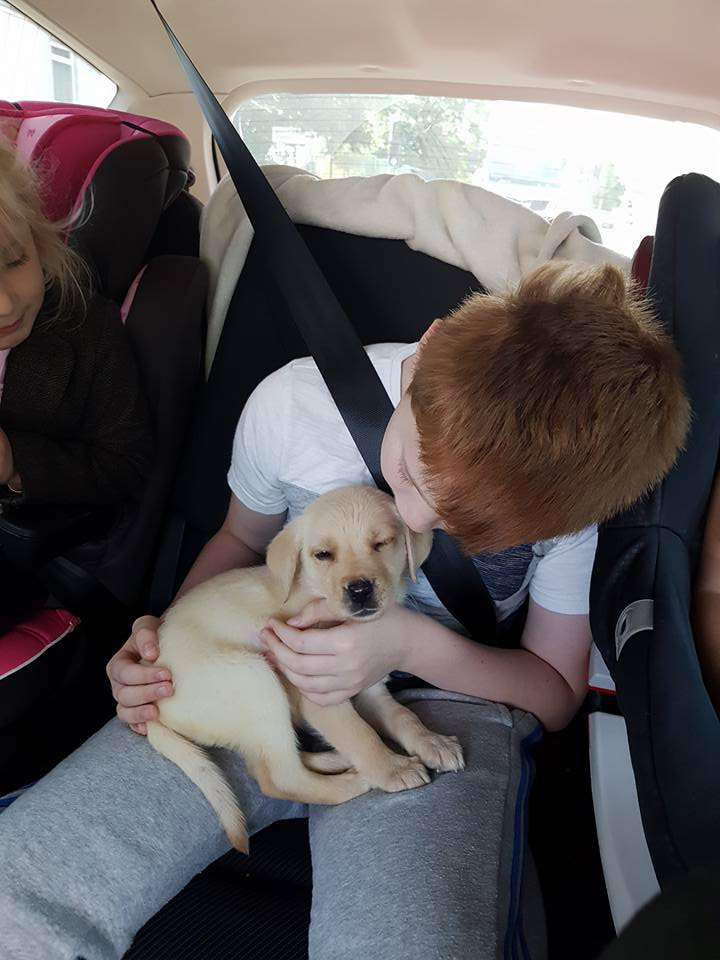 He has always wanted a puppy dog so me and my partner started secretly looking online.
Leo has Cerebral Palsy and requires daily physiotherapy and we thought it would be a great idea for him to have a therapy dog to take out on walkies and keep him as active as we can. Leo also agreed on poop duties can you believe haha.
So day 1 we let Rosie settle in and we all decided on her name which is Rosie or Duchess Rosie may according to Lyddy.
Day 2, My partner had spent the evening of day1 online, researching how to train Labrador puppies and what we would need for successful training. He and our daughter Lyd went to pets at home and the range and brought dog toys and treats and a puppy pen. puppies can only hold their bladder for 90 minutes at 8-9 weeks so we decided we would first take her out every 30 minutes into the garden and say 'make wee'. we knew she wasn't instantly going to know what to do so we waited around until she did one and made a big fuss of her and gave her boiled chicken as a treat every time she did it.
The haul (her favourite toy is the fox)
Of course she still had accidents in the house, its only day 2, she's still a baby and it's going to happen but when we saw she was sniffing around we picked her up and ran her either to a puppy pad or outside, whichever we got to first and If she had a wee wee or poo poo we made another fuss of her and gave her a little treat.
We persevered with this consistently all day and introduced the puppy pen which is big enough for her bed, toys, a puppy pad at the furthest end of her bed, food and water.
We also brought a large dog crate and kept her in there for an hour or until she started to whinge at the gate but didn't just put her in there we made it so she wanted to go in by putting treats inside and praising her when she went in and getting her to come out and play. we didn't want her to feel we was just shutting her in there.
After an hour we would take her outside without boiled chicken or treats and lead her to the grass and say 'make wee' and if she did we would again give her chicken or kibble and praise her, Same with poo poo's.
Then she would play in the room for a good 20 minutes and this was also training time which is very repetitive.
The first and 2nd night my partner slept on the sofa to keep her company with a radio on low as that is what she was used to before.
On the 3rd night, we put her crate upstairs and faced it towards the bathroom door where a little bit of light Shon through from under the door. She slept through from 1030pm until 2.30am where I heard her fart and then poo splat out. I woke up thinking Shit! (literally lol) there is no puppy pad in there and my alarm was set for 3 am to take her to the puppy pad.
Anyway, there was smelly poo all over her bed, blankets and legs which was making me gag so I tried my best to clear her up and took her poo poo bed out and put it in the shower to hose down later. she went straight back to sleep and then my 3-year old woke up GRRR.
In the morning David (my partner) took her downstairs at 6am and let her out and feed her.
Day 4 after continuing consistently with the poo and wee routine and training things were looking up, she now is holding her wee longer and then going outside straight away to do her wee and poo followed by her treats and over the top praising.
We taught her how to sit on day 2 she took to it so easy and was just doing it everytime she had her 20-25minutes playtime out of the crate/puppy pen. I had a appointment day 4 and David was back at work so it was the first time Rosie was being left alone. we moved the crate to the kitchen and left the door open with her food and water left out along with her toys and puppy pads we didn't just leave her we closed the door at first for 5 minutes and sat the other side to see how she would react and then went back in there and gave her a treat. then he waited a bit longer and then went back in until we felt confident she was going to be ok. I wasn't gone long at all and she did great. wees and a poop on the pad.
We have also taught her now to sit, stay and wait as we walked back a little and then called her over for chicken.
Last night she slept in her puppy pen in the living room with the radio on low and she didn't cry, we keep her active an hour before bed playing which tires her out.
Day 5 today and she has nailed the toilet training she is holding her bladder longer and she is pooping and weeing outside or going to her pad when I am in the kitchen or upstairs.
She has also learnt to sit and then lay down today.
so far so good 🙂