Sunday the 16th June was a very exciting day in the Knight household because not only was it Fathers day, it was also this beautiful little pup's 2nd birthday.
(Rosie on her second birthday)
We brought Rosie home when she was nine weeks old and our lives changed forever. Having a puppy is lovely but boy is it hard work! I will admit there were times where she had been challenging and I didn't want to do it anymore with the chewing, the runny poop whilst we were trying to find the right food for her, the dog hair, the chasing her around the living room trying to retrieve Emily's £30 twinkle toes shoe.
I made a commitment when we decided to get a dog that even when it got tough we would get through it and we did. We took her dog training and carried it on at home as much as we could. We found a food that didn't upset her belly and as she got older she did calm down a little bit.
When Rosie was around 18 months I started to do a little bit of research on breeding. I wanted her to have a litter before we had her spayed. I looked into everything, the health tests needed, the costs, the compatibility calculators on the kennel club website, how much it would cost for the health checks, the scan and for a c-section just in case, god forbid, she needed it, how much it would be for the puppies injections, microchipping, etc. I thought about the amount of poo and wee there would be and how heart broken my kids would be having to re-home the puppies and decided against breeding. Another reason being was there are already far too many dogs out there looking for homes and I didn't want to risk adding to the statistics. So we decided to get her spayed.
Another challenge we had to sort out was her weight. She was weighing around 32kg at around 20 months old and the vet told me that her weight should be around 28kg so we needed to stop giving her treats and start measuring out her food and take her more energetic walks.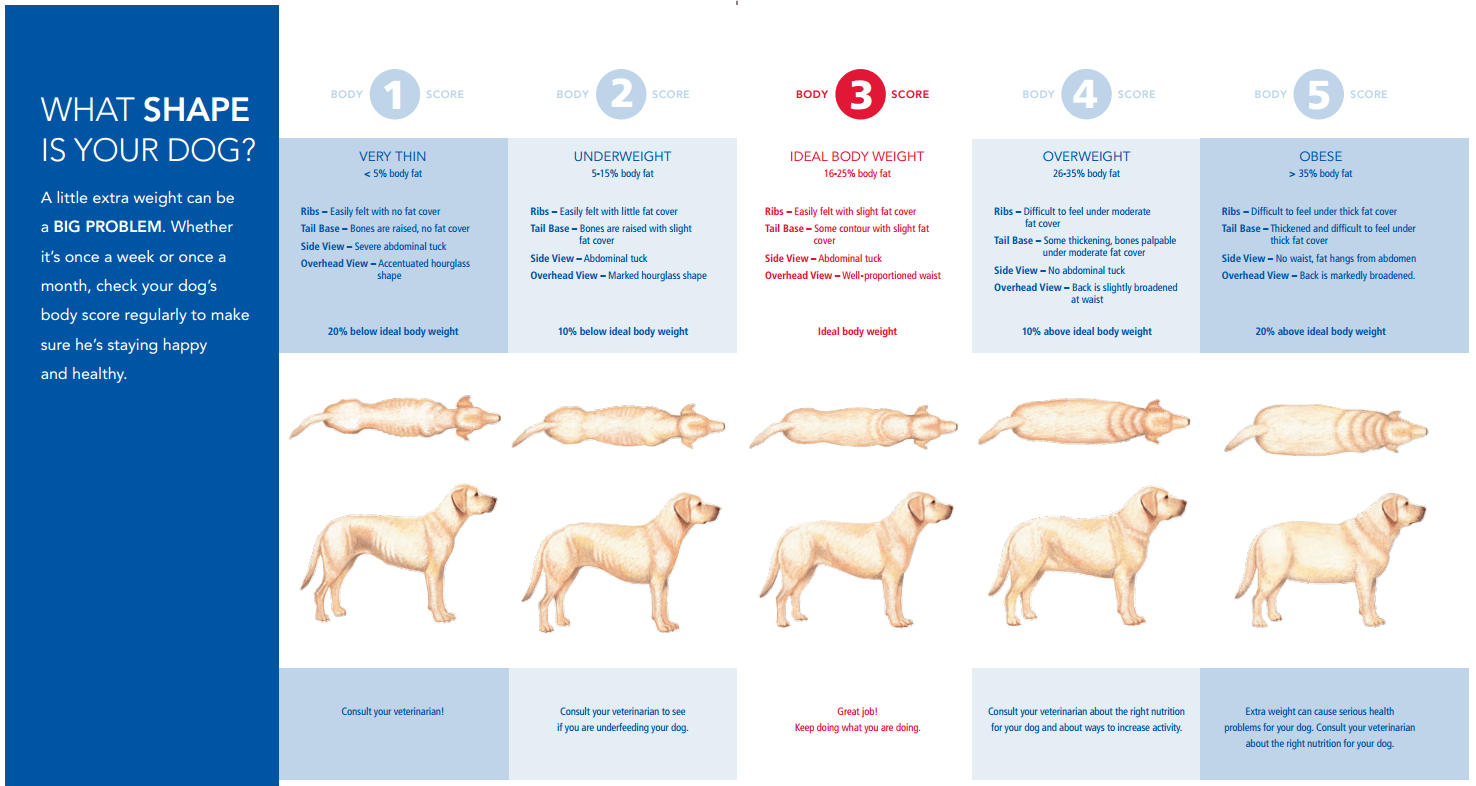 When I took Rosie to the vets a few weeks ago for her Kennel cough and to buy some more flea and worming treatment she weighed bang on 28kg and her shape looks like number 3 in the picture above instead of number 4.
For Rosie's birthday, my mission was to find some indestructible dog toys for her. I only managed to find a few which I will link below:
We brought one of these for Rosie when she was a puppy and it's still going strong, the only reason we brought her a new one was because I wanted to buy her a different flavour. These come in Chicken, Bacon, Peanut butter, Original.
These are different to the Kongs you can fill up with their spray treats as these are solid and not rubbery. You unscrew the Kong and fill it up with plain mixer food, Rosie spends ages knocking it around the room to get the food out. This isn't a quiet toy.
Ruffer and Tuffer Grubber Interactive football
Rosie loves this toy, It is very tough and great to play fetch and tug of war. We have had ours a long time now and it is definitely being put through its paces.
We brought one of these for Rosie when she was a puppy and she wasn't interested in it at all. We are going to try it next but in a XXXL size. I will keep you updated on this one.
That is all the toys I have managed to find at the moment which seems to last a decent amount of time. We have tried soft toys, rubber toys, tennis balls and she will destroy them all within minutes. If you can recommend any that work for your dog then we would love to hear from you, please on Jo@theknighttribe.co.uk
For Rosie's birthday, I had also been looking online for some dog-friendly recipes so me and Emily could bake her a birthday cake and we came across this one.
We sang happy birthday to her, Emily blew out her birthday candles and Rosie ate the entire cake.
Like this post? Save it for later…
 *** None of these links are affiliates***