MOJI POPS
– switch moods, flip faces, change emotions, love life –
We received a really exciting parcel this week and I have made the girls wait until this weekend to open it, which has been perfect to keep the kids from arguing all week.
Lydia and Emily have been having a blast playing and reviewing the new series 1 Moji Pops collection from Magic box toys. These fun little characters hit the shelves last month (March 2019) with their flip face emotions that are a huge hit with the girls.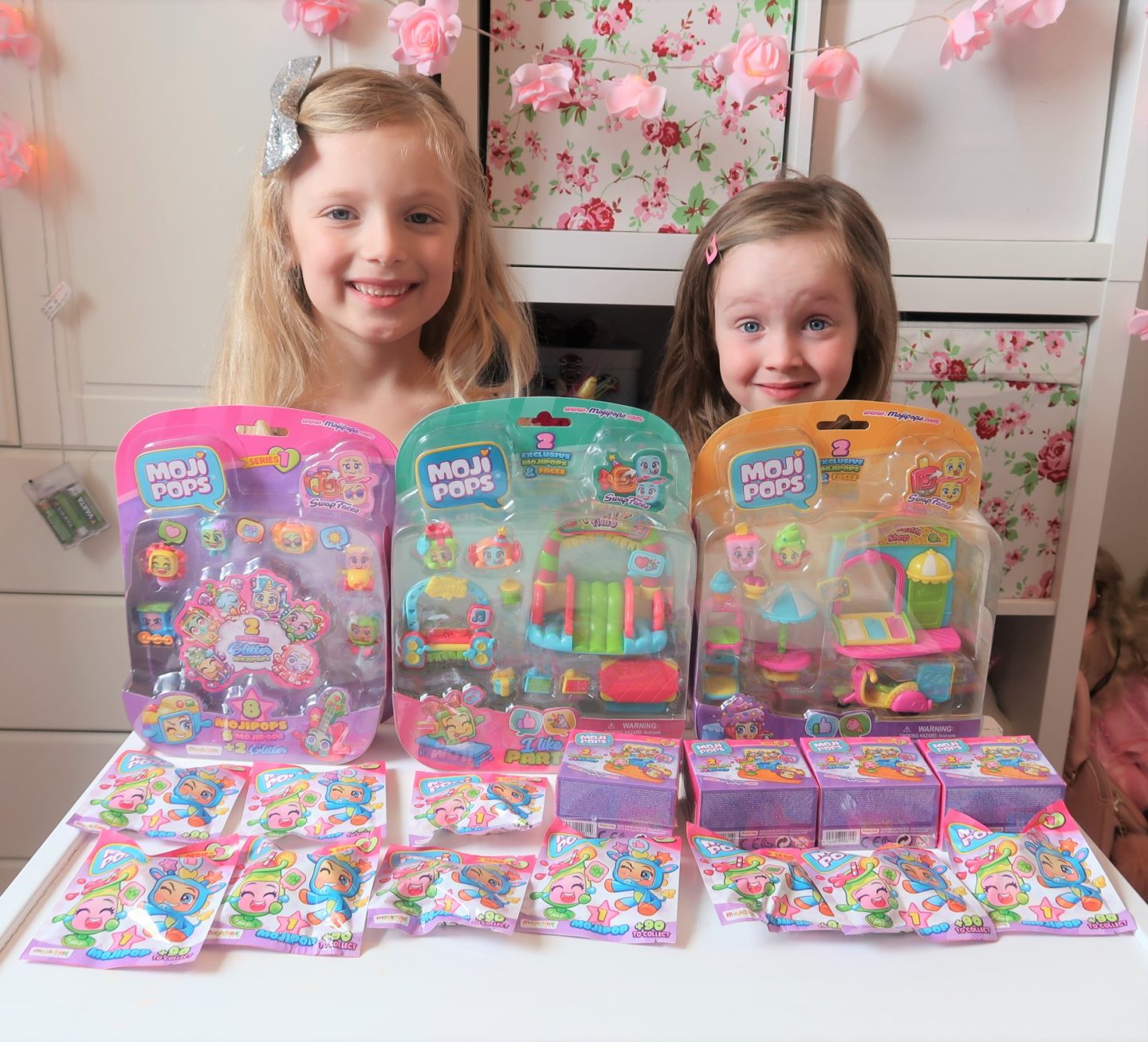 Moji Pops are small toy characters based on real life objects with a removable face. On each side of the face, there is a different emotion which you can pop out and flip over to change the mood of your character. You can even swap the face with a different character. The characters have a rubbery feel to them which makes it easier to pop the face out ready to flip or swap over. Emily especially loved the feel of these.
There are 90 different characters to collect, from the worlds of pets, home, nature, travel, music, food and sport, including six ultra-rare Glitter Moji Pops. With a variety of different sets to collect to suit all budgets making these pocket money friendly toys too. Each pack includes a collectors guide so they could tick off  their characters as they unbox.
(This is the back of the blister pack, the collectors guides are folded up individually in the blind bags and boxed story sets)
Em and Lydia were ecstatic to find some Ultra-rares in our un-boxing haul.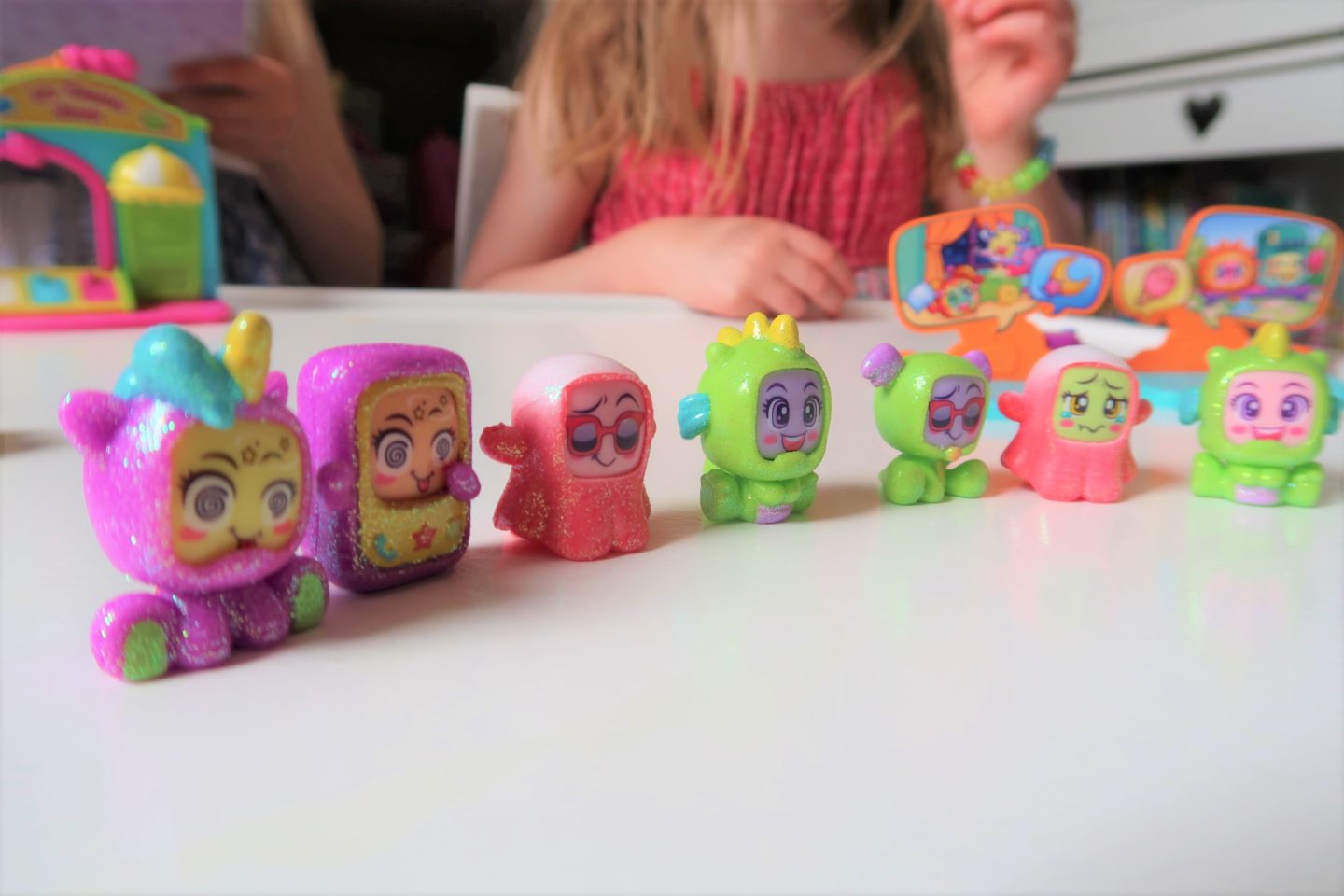 (These are the Ultra-rare Glitter Moji Pops)
Available in this range there is:
Blind bags- All children love a blind bag and the element of surprise that comes with it; you get one character inside. (RRP 0.90p each)
12 different boxed 'story' sets (RRP 2.50 each) that include two Moji Pops and a mini stage

 

Six different 'Photo Pop' blister packs (RRP 7.50 each) that contain four Moji Pops, photo booth style accessories, a display stand and a mini photobooth frame to capture cool poses.
'Blister Glitter Surprise', a blister 8-pack with six Moji Pops plus two surprises including ultra-rare Glitter Moji Pops. (RRP 10.00 each)
Four different 'I Like…' playsets: I Like Ice Cream, I Like Pets, I Like Party and I Like Movies. These contain two themed Moji Pops, and a variety of pieces of scenery and accessories to bring the theme to life. (RRP 12.00 each)
The play sets are pretty cool. We received the 'I Like Party' and 'I Like Ice Cream' play sets and the girls have spent hours in their bedroom role playing different scenes and creating different stories using the flip faces for different moods.
Would I buy Moji Pops?
Yes I would. They are fun and affordable.  I love that you can switch their faces and that they can fit into a little bag so children can take them along on their adventures to keep them entertained and are available to buy here.Moji Pops
***We were sent these products in exchange for an honest review, all opinions are my own***